Why am I of all people blogging?
I have a few friends who blog about their journeys.  I read them from time to time and thought no one would have an interest in mine.  It wasn't until a recent trip to Austin with a buddy for a longhorn game that I decided I would.  On the way back he told me about a few other blogs some other friends had written and asked me if I ever had.  After replying no I'll never forget the stare he gave me when he said " well you need to".  The interest I think is for my viewpoint as an aging athlete striving to improve performance in running and triathlon.  I've learned in the last few years that I get most satisfaction from the social aspects of running and and triathlon and helping others get involved and excel in those sports, so my blog will get a big dose of that.
After half heatedly telling him I'd start my blog I got feedback from another friend that I should.  So here goes.
Background: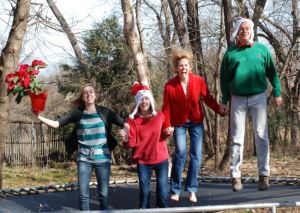 53 year old father of two beautiful and ambitious daughters.  Married to college sweetheart quite a few years after we both graduated (I caved in to the ultimatum). Played club lacrosse at university of Houston and University of Texas and after I graduated with the Fort Worth club lacrosse club.  Professionally worked myself up the corporate ladder at three different companies until I got let go as the Vice President of North American sales and marketing for a global electronics company based in Switzerland in 2009.  Started my own manufacturers rep business a few months later because my bride and I were not interested in relocating our daughters to another school system if I was to take a job in the same industry with another company.
I have always run a little bit since I graduated from college and might have done one or two 5 or 10k's per year but never competitively.  I focused more on lifting weights on the rare occasions I went to the gym. I occasionally road my mountain bike with friends on local trails since I graduated from college but never seriously. Fitness wise I went from 155 lbs when I left UT in 1985 to about 225 lbs when Amanda (our oldest daughter) was born in 1992.  My priorities were always on work and moving up the ladder until I was laid off in 2009.
How I got into running more seriously:
In 2009 while visiting some good friends in San Antonio they asked if I wanted to run the Rock & Roll half marathon there later that year.  I can't recall why I ever said yes but this will always be remembered as the start of my demise into the world of endurance sports (thanks Spark and Becky).  I still recall the beat down of training alone for this half marathon but when I finished it with a respectable 1:52 time I thought I'm not that bad at running.  We later had a discussion about Becky's trip to the Boston Marathon and I always had that in the back of my mind.  After I ran a few more half marathons improving my time on each one I started to think I might be able to qualify for the Boston Marathon.
I had been a member of the local Lifetime Fitness since it opened in  2004 it wasn't until 2009 that I decided to join their run club that was just starting up.  Wade Braun was leading the run club at the time and I recall the encouragement not ridicule he provided when an overweight 48 year old told him he was training for the Dallas White Rock Marathon so he could qualify for the Boston Marathon.  We had a small group of runners that did track workouts on Tuesdays and another run on Thursdays.  I think i may have been a regular at these workouts more for the social aspects than the training purposes.  I had two other buddies, Dave Chase and Tom Murray, that ran at Lake Grapevine so I started joining them on their weekend runs.  I eventually felt guilty about drinking the local running clubs water and Gatorade so I joined the Lake Grapevine Runners and Walkers.  I later would make numerous friendships with the members of this group.
Why I'm Driven to Improve:
My dad had been diagnosed with bladder cancer in 2010.  He had told us that it was not terribly aggressive type of cancer and was undergoing treatment that proved successful most of the time. In late November we learned the cancer had spread but he was undergoing new treatments that should keep it in check.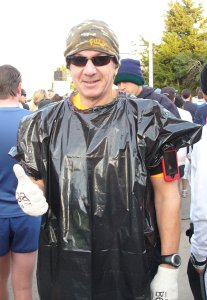 In December of 2010 I ran my first of what was supposed to be two marathons,  Boston and the marathon to qualify for it, the local Dallas White Rock Marathon. I made a special iron on graphic for the shirt I was running in to honor of my dad. My bride Kim as usual was in attendance for the first event of a new distance and I ended up finishing 3:30:15, beating the Boston qualifying time of 3:35.  I still remember the excitement calling my mom than dad to share the news.  A week later my dad was admitted to the hospital and it was determined the cancer had spread to his brain.  I flew to Detroit immediately.  I gave my shirt and medal to him hoping to raise his spirits.  He was released from the hospital just before Christmas. I ended staying there thru the end if December and Kim and the girls flew up for Christmas.  He had renewed vigor and took great joy in the Christmas shopping trips we took together.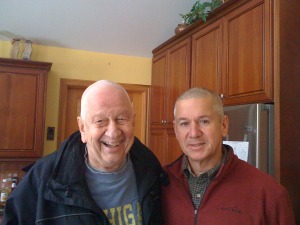 We also went to the local hot girls barber and had our heads shaved together as he was losing his hair from the radiation treatment on his brain mets.  At Christmas he declared it was his best Christmas ever.  Kim and the girls and I returned to Texas before New Years.  Two weeks later he was re-admitted to the hospital for appendicitis, I returned to Detroit.  The doctor that did the surgery said the cancer had spread all over the inside of his body.  He died at the end of January.  In some sick way I appreciate death by cancer as it allows you to spend time with your loved one and close out all unfinished business.  You don't get this opportunity when they are taken from you quickly.  I still cherish that bonus time I got to spend with my dad.  Every time I finish a big race I think of him and say "how about that dad".  Sub conscientiously I think I continue to push my limits for him so I can repeat that phrase when I have completed a new distance or achieved a new PR.
 Beyond Just Two Marathons
I continued to run with the Lifetime Fitness and Lake Grapevine Runners and Walkers groups.  I had watched several of them complete some sprint triathlons in 2010.  Early in 2011 I started my quest to learn how to swim correctly (I sucked).  In June of that year I completed my first sprint triathlon with Jeff Folkes my buddy that talked me into writing this blog.  I came in first in my age group and was forever hooked on the sport.  I competed in about 4 more sprint triathlons of increasing swim length (and expanding my swimming comfort zone) that year and finished the year with my first Olympic distance triathlon (1500 meter swim).  I think it was the first triathlon that year that I didn't place in the top three of my age group.  The group I trained with decided it was time for us to tackle the half Ironman distance the next year.  We all signed up for the 2012 Ironman Texas 70.3.
In April of 2012 we had a large contingent of friends complete the half Ironman.  Lance Armstrong was also racing so the race drew lots of attention.  Kim and Amanda (who was at Rice at the time) came down to cheer.  I'll never forget how hard that race was and at the finish talking to one of my buddies, Frank Brandt, about how we could never fathom completing a full Ironman.  Wade Braun had been a multiple Ironman finisher and would eventually change our minds.
Two weeks later I completed my first Boston Marathon.  It was a hot day but I found myself on the front of the first corral of the second wave.  That was the coolest place to be especially thinking I had only run one marathon 15 months prior.  Although the day was miserably hot I finished the race and my mom and bride were in attendance to witness their first Boston Marathon. I haven't stopped running, biking, or swimming since except when delayed by injury.