Background
Years ago in my heavy and out of shape days I attended both Race Across the Sky screenings at movie theaters in Houston on separate business trips.  Not sure if it was a coincidence Houston is one of the most unhealthy cities in the US.  The first Race Across the Sky movie was more about the event and the lay folk that were racing, the second was more about the Lance Armstong vs. Dave Wiens dual.  I was infatuated by this 100 mile mountain bike race that happened on the other side of Independence Pass from Aspen where my sister used to live.  I subsequently read the book "Born To Run", which launched my running vice, and learned about Ken Chlouber and the 100 mile running race he created in Leadville to help the community economically, which also spawned into the Leadville 100 Mountain Bike race.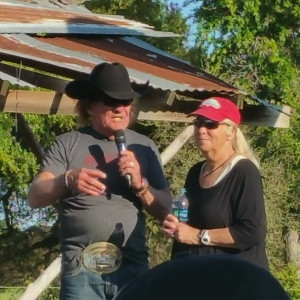 I bought my first mountain bike in 1985.  It was a rigid Cannondale I paid about $400 for.  I then made the huge expenditure, for a 23 year old, of $250 for a Rock Shox front fork.  My riding typically was around the local trails with friends.  I never got the urge to race or rode with friends that raced, I was purely a recreational mountain biker.  Before I bought my first road bike I put skinny tires on this bike just to see if I might like road cycling.  I've bought 5 bikes since then (guess I like cycling).  I subsequently sold her to a friend in 2014 (Three mountain bikes along with two road bikes and a TT bike was enough for Kim).  Oh our girls Amanda and Murphy also each have a mountain bike too to help occupy our garage space with bicycles.
In 2012 I entered two events that involved mountain bike racing.  The first was an off road triathlon I thought I would try in my early triathlon days, I ended up placing first in my age group for that race largely due to a good trail run at the end of the race.  I also placed fairly high in the mountain bike portion of the Hotter n Hell Triple Threat. (Mountain bike race Friday, 100 mile road rally Saturday, 13.1 mile trail run Sunday).  My buddy Wade kicked my ass as usual but we were both very high in the overall standings.  After these two events I thought I might be "not bad" at mountain bike racing.  In 2013 I entered no MTB races due to lack of interest or  injury.  My friend Ray had done the Leadville 100 race that year and was on a team for the 2014 lottery and told me they might have an open spot on their team so I happily accepted the offer and signed up for the lottery in December'13.  The team  didn't get selected in the lottery, but Ray subsequently got in his second time by writing an essay about why he wanted to race Leadville.
In 2013 several of our group that used to ride together back in the mid 90's started riding together again recreationally.  We call ourselves "Gasping for Air".  Most of the guys were ex-Motorola engineers who I used to work with.  We would ride on Wednesday and Friday evenings after work.  Some of the group I trained and raced triathlons with had also recently gotten into mountain biking.  In April of 2014 several of us competed in the Hotter n Hell Triple threat again.  In the Cat 3 MTB race I ended up coming in 4th overall and masters winner after an early battle with Wade, who was slightly delayed by a flat tire(lucky for me!).  Our friend Michelle was the second woman in the Cat3 MTB race and eventually was the overall female Triple Threat winner.  Late in 2014,  after Ironman Chattanooga, there was a local MTB race in Frisco, TX that several of us competed at.  This was the first Cat2 race for many of us against real MTB racers and none of us placed very well except for Michelle who had no other competitors.  This was my first evidence I wasn't that good but had lots of room to improve in mountain bike racing.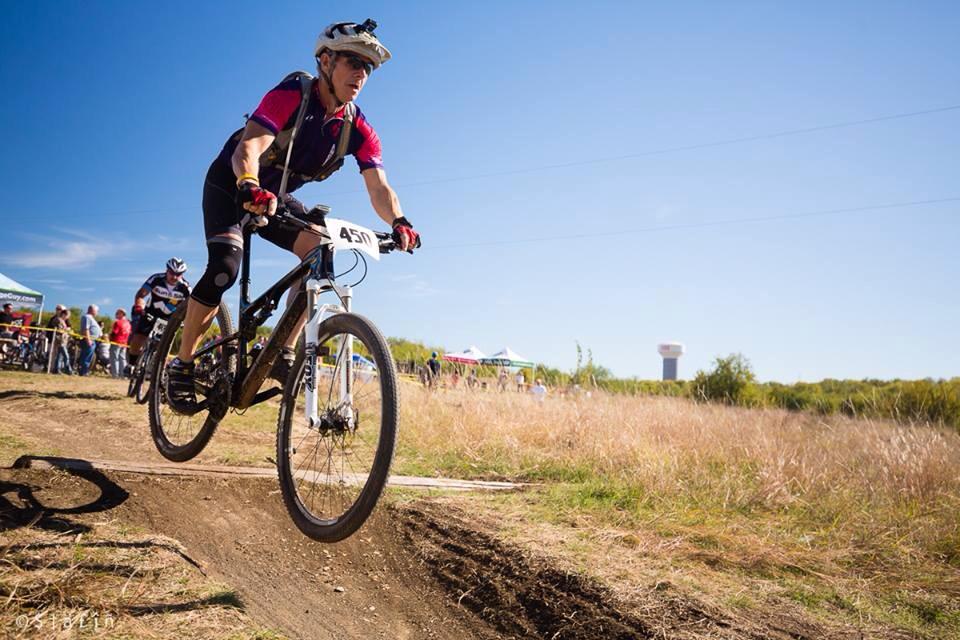 So that was it, minimal racing, basically I'm a recreational mountain biker.  I had already signed up for my "A" race, Ironman Florida in November and thought the build up to the mid August Leadville 100 would be perfect cycling training for IMFL.  When the date for the next Leadville lottery was approaching I started gauging both groups for interest in putting a team together for the lottery draw which would happen in mid January.  I eventually gathered a team of 8 people who were willing to make the commitment and we all signed up in December'14.
The Team:
Ray – Raced Leadville twice so far and has competed in several Ironman events.  Does crazy stuff like Ironman Boulder one weekend and Leadville 100 MTB the next.
Kristin – Have raced with her and her husband Jeff for a few years.  They are both incredible athletes.  She and I had spoken about her wish to race Leadville with her Dad.  When I told her about the lottery team we were putting together she jumped at the opportunity.
Steve – Kristin's Dad.  Lives in Costa Rica and rides lots on hills we can't fathom in Texas.
Wade – Beast Athlete in running, cycling and swimming and multiple time Ironman.   He might get on his old mountain bike four times in a year.  Unfortunately he just moved into my age group but on rare occasions I get lucky and beat him in an event.
Roberto – Beast athlete #2.  Although he delved into longer endurance events after Wade and I, he, Wade, and I compete with each other in everything lately.  Roberto has recently gotten his triathlon and running coach certifications and continues to help Wade and I despite the consequences in the race results.
Marc – He's not done a lot of long cycling or or any thing longer than a sprint triathlon event but has run ultra marathons in years past.  Although he is extremely competitive,  he'll do anything to help anyone out.
Michelle – Two time Ironman, multiple ultra distance running experience.  Extremely competitive, like me has moved from middle of the pack to top 25% in running, cycling and triathlon events.
Me – Well you know about me.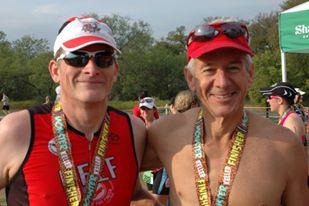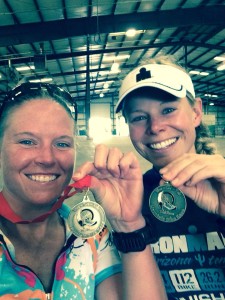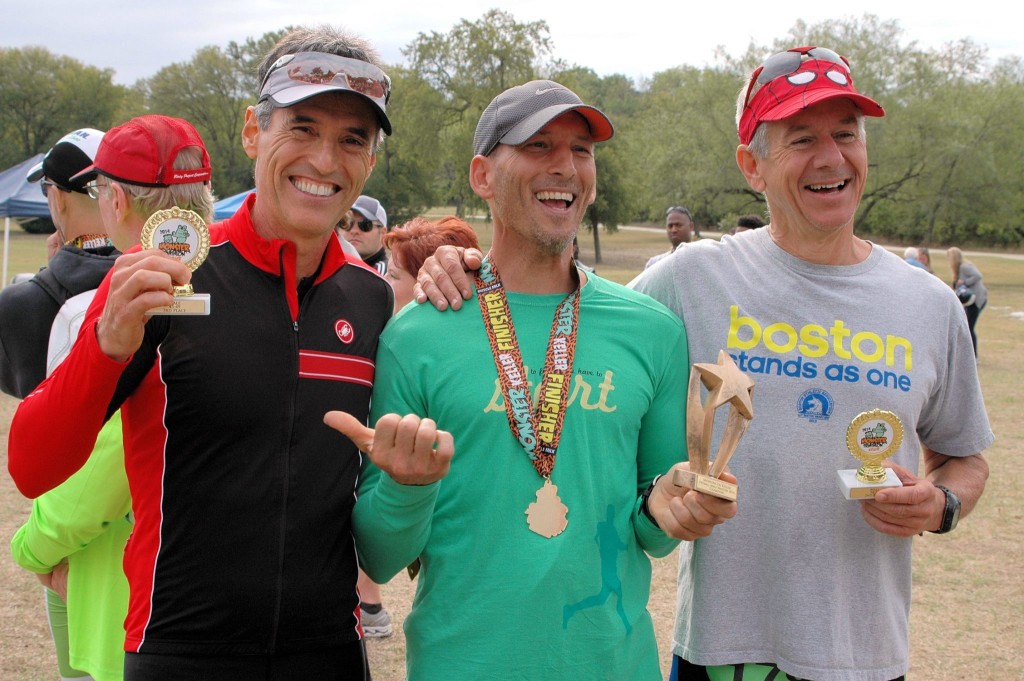 Getting Lucky
In Mid January they draw the lottery slots for Leadville.  Michelle was the first to text me that she received her congratulations email but I hadn't gotten the email yet.  I briefly wondered if I was in or not as I had not received the acceptance email yet, an hour later I received it.  I was driving back home from visiting a customer when I saw it so i decided to stop by Lifetime Fitness and let Wade and Kristin know.  Wade wasn't working that day but I caught Kristin coming back from lunch in the parking lot.  I yelled across the parking lot "We're in".  She immediately knew what I was talking about and we had a quick hug and fist bump.  Word had spread to the rest of the team.  One day we would need to start thinking about training for this event.  But for now we all could bask in the glory of knowing we were going to race the Leadville 100 MTB race.
Coming Up With A Plan
In early 2015 I started thinking about training plans.  I still had several marathons on the calendar ending with Boston in April so my core focus was on running but tried to mix in at least three road or trail rides per week to maintain consistency in my training.  I started doing a lot of research on equipment and training plans for endurance mountain bike events.  I also had to work my triathlon training into the schedule as my "A" race was in November and I was planning on competing in several half Ironman races thru the year in the build to Ironman Florida.  I wasn't able to find a lot on the internet about training for Leadville but Michelle share a couple blogs on the subject that she had read.  The blogs focused more on hours on the bike and the need to do a lot of climbing repeats.   I've been more into the science and details of training so would incorporate this into the same format of training I used leading up to Ironman Chattanooga in 2014 (because it worked).  I knew I was going to need to build my FTP more for climbing.   I knew I was going to need to build my endurance to survive up to 12 hours on the bike.  This would largely be done on road and tri bikes as the Leadville course is not known to be terrible technical.  The cycling portion of Ironman is pretty much a steady effort ridden at consistent heart rate.  The past mountain bike races I had participated in were all about an hour long riding almost as hard as I could.  This level of effort wasn't going to work for more than 2 hours so I was going to need to figure out what level of effort I could sustain on the MTB for over 10 hours.  I also knew it was likely going to be difficult to maintain a steady effort for the entirety of the ride like it was in the Ironman cycling leg as mountain biking requires harder efforts for more difficult climbs.  The extent of how far from steady effort was not clear to me until later in the year.
I thought I should probably modify the IM training format to maintain handling skills on the mountain bike and also to train the body to be able to handle bouts of high intensity (burning matches).   My weekly goal  is to address each of the below sub-goals with a separate ride each week.  I know I'm not going to be able to complete all these rides every week due to family and work commitments but will try to fit them all in.
Build FTP (Functional Threshold Power) – I'll do Short (1-3 minute) power intervals and long (10-20 minute) FTP intervals.  Done on the trainer or on the roads.  I'll incorporate hills into a lot of these intervals but will still ride to power level guidelines, just at a lower cadence.  My goal is to get my FTP (Functional Threshold Power) up to 290 watts by IMFL.  This is where I think I need to be to have the possibility of getting a slot to Ironman World Championships.  Before IM Chattanooga last year I had built my FTP from 220 watts early in the year to 268 watts before that race in September.  As of March I had not officially tested FTP yet but am guessing I'm in the 230-240 watt range based on a few interval rides I have done.  I hope to be around 270 watts by Leadville.
Build Endurance – I'll do ever increasing length long rides on the weekends at goal Leadville heart rate (yet to be determined).  These will either be done at road rallys or long endurance mountain bike races.  These long rides will eventually increase to 8 hours in duration just before Leadville.  Long rides take their toll on me, last year before IM Chattanooga I did long rides on alternating weekends with long bricks (shorter ride, longer run after) on the other weekend.  This seemed to really work well and since it's going to be a long season of riding to IMFL I don't want to burn out by doing to many long rides in the early season.
Maintain Handling Skills – I'll try to have at least one MTB ride per week.  I've taken several weeks off between mountain bike rides before and notice a decline in skills.  Maintaining center of gravity over the pedals is very important in mountain biking and I've noticed it is more difficult since I've become a lighter rider.  I've got to get further forward on climbs and further back on decents, than I used to.  I read in a mountain bike skills book I have that using flat pedals helps ingrain this proper weight distribution so I've been riding with flat pedals to try to improve my balance more.
Be Able to Burn more Matches – I'll take part in one or two local group rides trying to hang with lead group.  These typically include hard starts from stop lights with effort reducing some until someone decided to start sprinting.  There are structured workouts you can follow to accomplish this on your own but I prefer the social aspects of the local group ride.
Equipment
I'm pretty happy with my bike, It is a dual suspension Trek Superfly.  Although it is heavier than a front suspension bike and has some energy robbing pedal bob, it will be more comfortable than front suspension bike.  I recently changed to a more comfortable ISM Adamo seat (same type I use on my tri bike) and plan on buying some lighter wheels to make accelerating and climbing easier.  Other than that I will eventually get a professional bike fit then I should be good with my equipment.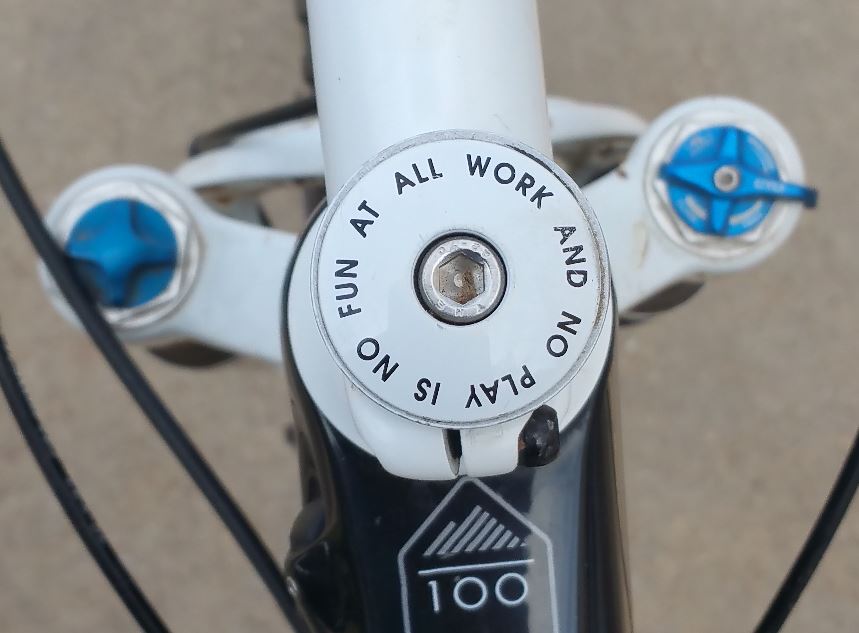 Best Part of My Superfly is the Steering Tube Motto
 Altitude
I've read up a lot on this and am slightly concerned.  The Leadville race occurs between 8,700 and 12,000 feet altitude.  Starting at 24 hours after being above 5000 feet the oxygen level in your blood starts declining as does the volume of blood.  This happens for a period of 1-2 weeks until your body starts adapting and you are typically not totally adapted for 4-6 weeks.  I experienced this last year at the Boulder 70.3 race when I arrived 3 days before the race.  We went on a ride within 24 hours of the time I hit altitude and felt great.  Two days later at the race I was noticeably short of breath on the swim, I couldn't maintain the power levels I had 2 months earlier at the New Orleans 70.3, and my run wasn't like it normally had been off the bike.  I think people react differently in altitude acclimatization but think I may be affected more than usual, I have a low red blood cell count which may have something to do with this.  Because of this I'm planning on minimizing the time at altitude prior to the race.  I'll probably arrive in Leadville at the latest possible moment to get my packet which should help maximize the amount of oxygen in my blood for the race.
Nutrition and Hydration
I'm planning on going with the same calorie intake (300 calories) and hydration (40 ozs/hour) that I used at IM Chattanooga since it worked so well.  I will probably use solid food the entire way because I won't have to worry about having a full stomach for a run after the ride.  I've found liquid calories get real old for me after 3 hours.  I'll use this on my long training rides to make adjustments and dial it in.
Level of Effort
This is a big question mark for me.  I have been training with power for triathlons for the last two years.  I don't have a power meter on my mountain bike so I will have to use heart rate as a gauge for my level of effort.  My HR at IM Chattanooga averaged in low zone 2 but that was to save myself for a 3 1/2 hour run afterwards.  I'm planning on doing more research on what others HR levels have been at Leadville and do some experimenting on long rides and long endurance MTB races.  In the back of my mind I'm thinking I need to keep it to low zone 2.