The numbers speak for themselves.  13:35:48 IMTX time.  5:36 Run time .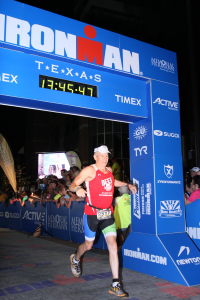 IMTX was a huge embarrassment to me personally because I'm a fairly good runner in my own warped mind.  I had pretty loose expectations for the swim and bike but that run, what the heck! I had so many issues to consider as to what might have been the cause of my demise.  I got very little sleep the night before the race, I tried new nutrition products I had never practiced with, I made major changes to hydration strategy due to a much warmer weather forecast.  I started the run a much faster pace than I should have until the wheels fell off at mile three of the marathon.  After I crashed on the run I felt like I could not breath, almost like I had asthma.  Walking was the only way I could catch my breath.  I ran in racing flats only to discover they amplified the pain of plantar fasciitis and a Mortons Neuroma issue running off the bike that I never addressed.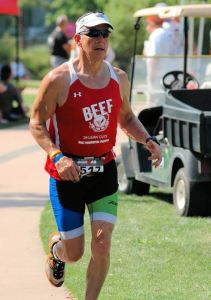 When analyzing this race I had so many things to consider as to what went wrong.  Did all of them contribute to my poor performance or were there just certain ones.  Below is my takeaway of what needed to be fixed based on my performance at IMTX.
– Take every opportunity you can to practice race nutrition.  Practice with solid and liquid calories to see what works best for you.  Above all do not change anything before the race.  Days before IMTX I had a friend tell me about this great new product called uCAN that her husband had taken.  I decided if it was so great I should try it during the race, bad idea.  I had also heard about some pro triathletes that took Ensure before a race and in transitions.  I also did this because some of the pros did.  What could go wrong.  Well the Ensure did not agree with my stomach, when I started crashing on the run I decided to drink some coke because all my ultra buddies drink coke.  Let me tell you the best way to create gas is to mix coke and ensure in your stomach.
– Take every opportunity to practice hydration.  Monitor your weight before and after rides and runs to determine if hydration is correct.  If the weather forecast changes make minor adjustments not large ones.  IMTX temperatures were foretasted to be much warmer and more humid than the conditions I trained in.  I made some drastic changes to my hydration and salt intake to accommodate this.  It still was not enough because the hydration strategy I used while training was not even close to being correct because I never checked my pre and post workout weight.  I know this because I never had to pee while riding the bike for over 6 hours at IMTX.
– Don't change equipment before a race .  I decided to run in my triathlon racing flats instead of Hokas' because they had drain holes in them and I knew because of the warmer temperatures I would be soaking wet.  Not only did this aggravate the plantar fasciitis I had but also a Mortons Neuroma issue that had never been a problem wearing the Hoka's while training.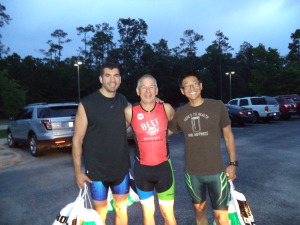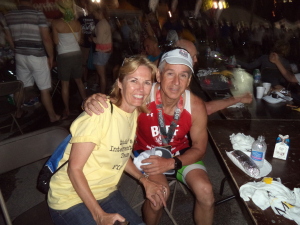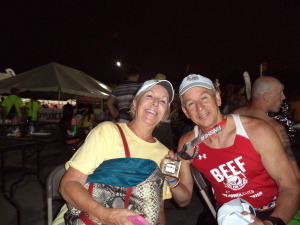 – Race with as many friends as possible and have as many as possible come spectate.  They will encourage you on the race course.  I was able to run with my buddy Jason C. for a bit until he left me when I had to take another walk break.  My bride and mom were on one part of the run course and Byron, Michelle and their FIGJAM posse on another part of the course.  Even though I had major issues on the run,  I would start into a slow jog when I was getting close to the areas where my family and friends were spectating.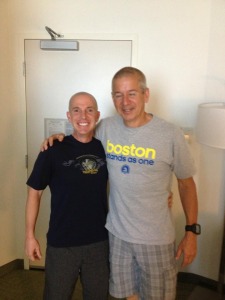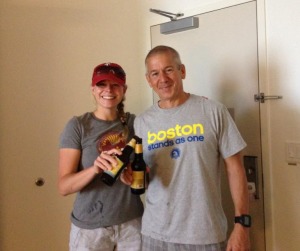 – This trouble breathing issue was especially puzzling to me.  I did not have an answer for it.  Yes it was hot and humid but I had run standalone running races in similar conditions and not had the same problem.  I started thinking about the two half Ironmans I had completed and recalled I did have breathing difficulty there as well.  Both of those races were also in very warm conditions but I was able to push thru it and knock out fairly decent runs.  Either I had a health issue or it was related to my hydration and nutrition or maybe the lack of sleep.  I researched it some more on the interweb and found out about exercise induced asthma and other scarier conditions.
These were the issues that I knew I needed to address if I was ever to have a good race at my next Ironman.  And when I say good race I mean meeting my own expectations.  Finishing an Ironman is a big accomplishment but for me missing my expectations so badly was a big disappointment.