The Taper
So traditionally when you ramp down your training miles before a marathon you tend to go a little crazy.  You think you are losing fitness because you aren't running enough and you start noticing little pains and worry they are turning into injuries.  I had gained 7 pounds from Christmas celebrations and noticed my heart rate had increased at the same paces compared to before the holiday but was still able to hold 7:00 pace for 12 miles (My goal race pace  for a 3:10 marathon was 7:15). It was a noticeably harder effort though.  I started worrying about my weight and with the ramp down in running tried to spend more time on the mountain bike and rowing machine to control my weight.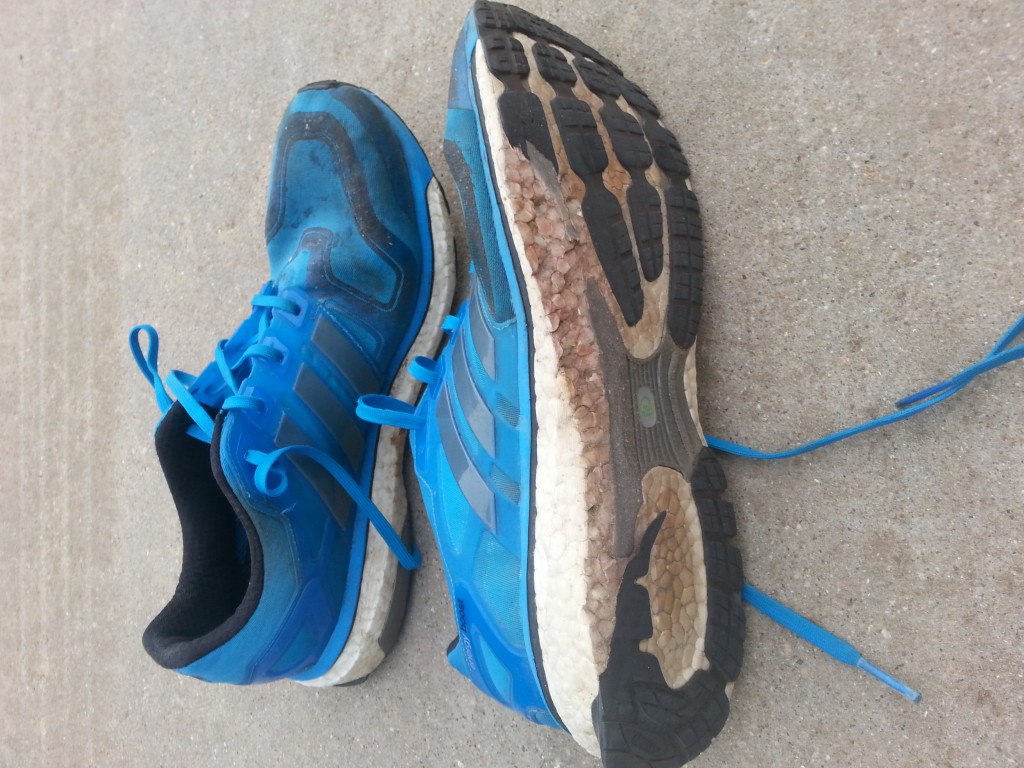 The old Adidas shoes I had been running in since I had the foot pain from the IDB had become so worn down I needed to replace them but they cost $160 so I made the smart decision to try a new shoe and switched to a Saucony which I had never run in before but they were only $80. (I'm being sarcastic, never ever change shoes before a marathon)  Although they had less cushioning then the Hoka's or the Adidas I did not experience the foot pain I had in the Hoka's.  Remember! when they say don't try anything new?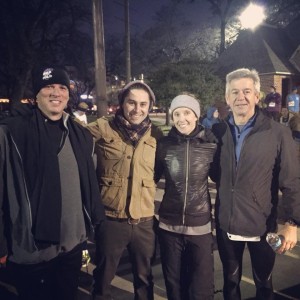 New Tears Eve 5K – My friend Jessica told me she was planning on running this so I decided I'd go out and run it as well.  Jessica had recently started running with our run club track group.  My confidence from my last long run made me think I might be able to run a fast 5K and maybe even PR (My 5K PR is 18:57).  Well I struggled, my legs wouldn't turnover like they had been, I couldn't get my HR up to where it would normally be for a 5K.  I started thinking the added weight I had put on was having a huge impact on my running.  This really bothered me.  I had just PR'd my 10K time at Thanksgiving and now ran a 5K time that I could beat back in May.  What the heck was going to happen to my marathon?
FWTri  Club Prediction Run – This is a fun social run that was organized by my triathlon club.  I had more than the usual knee discomfort in the short warm-up and during the run itself.  I remember telling my friends Jeff and John how bad my knee felt afterward.  It hadn't been this bad since I tried to come back from Chattanooga too soon.  The next day my knee had swollen up big time and I had lost a lot of range of motion.  I was supposed to do a 13 mile long run that day and needless to say that didn't get done.  I thought I could make it up later in the week.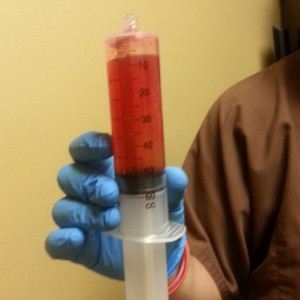 I was lucky to be able to get in to see the Doctor that Monday morning.  I was also lucky that he was able to drain it as past attempts had largely been unsuccessful.  He injected some Cortisteroid in the knee to reduce the inflammation and told me no running for two days.  Then he told me he wasn't going to tell me not to run but this might keep happening more and more, he could drain the knee any time I needed it in the future but he had to be conservative with the cortisteroid because it could cause further cartilage damage.  This kinda freaked me out, I started thinking Houston was my last chance for a great marathon and my running career might be over after it.  I had a few text conversations with Byron and Michelle that helped get my head back in check when I started to freak out.  I went to the running store and bought that new pair of $160 Adidas because I thought the new Sauconys might be the cause of my knee issue.  Then being the smart runner that I am, I ignored Doctors orders and tried to run again the next day.  Not smart, knee pain still there.  The following evening I tried again and was able to get 6 miles in with little pain.  I was ecstatic.  I texted Michelle to see if she she was ready to do a 3 mile interval at 7:00 pace the next morning and she readily accepted.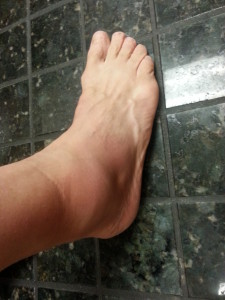 The next morning we started on our 2 mile warmup portion of the run.  I felt great, my knee wasn't bugging me and this was going to be an awesome run.,  About a mile and a half into it I stepped on a dead branch that had fallen on to the sidewalk and heard a snap with accompanied pain in my ankle.  I assumed the snap was the stick not my ankle.  I tried to walk it off but it was taking longer than it usually did and not wanting to ruin her run I told Michelle to go on ahead, I'd walk back to the car.  On the walk back I thought about the 13 miler I missed the previous weekend and how missing this run was going to have a big impact on my Houston performance.  I ran down Michelle at the 2 mile mark and we got our 3 miles in at sub 7:00 pace.   The last mile hurt real bad.
Later that day I was volunteering at packet pickup for our run clubs race that weekend,  My ankle didn't feel too bad walking around on it so I signed up for the 15K race.  I had turned my ankle many times before and not since college had it kept me from running for more than a day or two.  I was supposed to meet Michelle at the run club Friday morning, I went a little early to try to jog out any stiffness, texted her shortly thereafter I was leaving, because I couldn't run on it.  Saturday, the day of the race, I tried to walk it out, still couldn't run on it.  So I skipped the race and took photographs of my friends running it.  One of those friends was Lesley.  She was going to run the Houston Marathon the next weekend too, it would be her first marathon.  She had decided to run the 5K at marathon pace as a taper run.  After about 500 meters she pulled up feeling a muscle pull in her hamstring.  A friend told me about this and I when I found her she was devastated,  in tears.  Man could I relate, I just had my knee drained, was fired up about being able to run again then sprained my stupid ankle where I couldn't run anymore.  When you get to the point both of us were the only thing that is going to help you is a positive attitude.  I had already been forced into this way of thinking after two injuries in 7 days so it was pretty easy to convince her she had to think positive too.
Before Christmas I seriously thought I was close to getting a 3:00 marathon at Houston, after the weight gain from the holiday I thought 3:10 was still achievable.  The way my ankle felt I seriously didn't know if I would be able to finish and I had no idea what my knee was going to do.  Byron had texted me about how I thought I would do.  I knew he was insinuating should he come down to cheer or not.  I told him to stay home because chances were it might be ugly.  I was able to run with a cumbersome ankle support and got in two more runs with Michelle.  She had not mentioned coming to Houston since the BCS weekend so I figured she  wouldn't be there.  I didn't want to ask her to come down because chances were it would be a bad race and a waste of her time.  During our last run before the marathon she started asking me about what I was going to be wearing and what pace I thought I would run.  I bluntly asked her if she was coming down for the race, she said yes, she had always planned to run the last miles in with me, she just didn't know if the other people she invited would come.  Several times I I had  made a remark to her about friendship "Never an inconvenience, never a disappointment".  She knew what shape I was in physically and was still planning on coming down to support me.  Needless to say this had a huge affect on lifting my spirits.  I was just going to have to give it the best that I had.
As I stated in the beginning of this series of posts,  it's more about the journey than the race, but thought I'd give a quick synopsis of the race so you knew everything ended well.
Saturday drive down to Houston with my buddy Dave (I have been running with him for the last 22 year, he was faster for most of those years.  He isn't anymore).  We meet out friends Tom, Kyle and Jon at the Hilton bar after packet pickup and have a beer before Dave and I go to dinner with Lesley and her crew.  Kyle makes sure to show me his ass and tells me get used to it I'm going to be seeing it all day during the marathon (Kyle weighs in at about 215lbs).  Dave and I go over to Spaghetti Warehouse to join Lesley and her group for dinner at 6:00, at 7:30 the manager comes to the table and says he is sorry the order for 16 people at our table never got entered by our waiter.  Our food arrives shortly there after and we get it all free.  Longest free dinner you will ever get at spaghetti warehouse!  Dave and I get checked in, start talking about nutrition, I keep reminding him he's just running the half.  At 4:00 AM Michelle and the mystery guests she has rounded up, start the drive to Houston.  Dave and I get up at 4:30 AM, I eat as prescribed, my ankle feels terrible so I put on the ankle compression sleeve hoping it will help.  We get down to the corral at 6:15, meetup with friends and chat for a while, gun goes off at 7:00 and we're running, well actually I'm limping.  I check my watch for my HR and there is no reading.  What the Hell? I run by HR how can this be happening.  I decide I'm going to try to hold 7:00 pace for as long as I can, I know I'll fade toward the end but Michelle is going to be waiting for me at mile 20 and will get me to the finish. It took three miles to stretch out the ankle and thoughts of other folks that were dealing with more pain.  Shed a tear when Amanda wan't waiting for me by Rice for the first time.  At mile 10 saw Michelle and who the mystery guests (Byron, Jessica, and Jeff) were for the first time and ran fastest mile to 11.  At 12 I started to fade and had thought maybe I was running too hard.  A little after 13 I pass one of the fastest masters runners in Ft Worth,  Todd, who is nursing tight hamstrings, wow that never happened before.  I'm struggling, then at 14 my friend and one of the fastest woman runners in DFW, Jessica, pulls up next to me and says she is going to run with me to mile 20 where Michelle is waiting.  I suck it up and hang with her continuing the roughly 7:00 pace until mile 20.  Along the way she thinks she is telling folks in Medic vests that I'm doing great but they look concerned and take it that I need help.  Had to wave them off a bit for them to see I was still running fairly well.  Then Jess tells me to focus on a butt in green shorts ahead.  We are both nearsighted and get a good chuckle when we realize that butt belongs to a 14 year old girl.  At mile 20 she hands me over to Michelle.  The rumor is Byron got out of the car at the same time with Jess but was not able to run as fast as her to catch up with me and he pulled into mile 20 after Michelle and I had left.  Merely a rumor I'm sure.  The last 6 miles of a marathon are the toughest place you can be but I'm running with my best running buddy, Michelle and it's like were just on another training run.  She says she wants to PR her 10K time for the last 6.2 and as usual I said OK that's what were going to do, and I push thru the pain.  The result  3:05:09.
I've run plenty of marathons so I have to tell you what would have happened if things worked differently.  Michelle made a statement to never think "what if" or second guess myself but I'm pretty sure I know what would have happened.  Had my HR monitor worked it would have shown a higher HR than I wanted to race at and I would have dialed back the pace = no 3:05.  Had I not known Michelle was going to be at mile 20 to run me in I wouldn't have decided to push 7:00 pace = no 3:05.  Had Jessica not started to run with me at mile 14 I likely would have thought I was running too hard and would have dialed it back = no 3:05.  And had my best running buddy, Michelle, not told me her goal to get a 10K PR and then backed it up with running as hard as she could for the last 6.2 miles = no 3:05.  Jessica asked me how was it that I could run 7:00 pace to the point she caught me at mile 14.  I told her it was pure desire.  I needed my friends for the last 12 miles to keep that desire alive, and that's how you get to a 3:05.