Ironman races are so popular that you have to sign up for them a year in advance before they fill up.  This was certainly the case for Ironman Chattanooga where the race filled up in a matter of seconds after registration opened.  Most of us that competed had joined the Fort Worth Tri Club and this made us eligible to register prior to general registration opening.  Most everyone did their own training and racing thru mid year.  As we got closer to the race date several of us started swimming, riding and running together when we could.  You learn a lot about people when you spend 5 hours or more with them each weekend, and our friendships grew stronger thru this training regimen.  As my cousin helped me understand, the time spent training with these friends was more important to me than my performance at the race.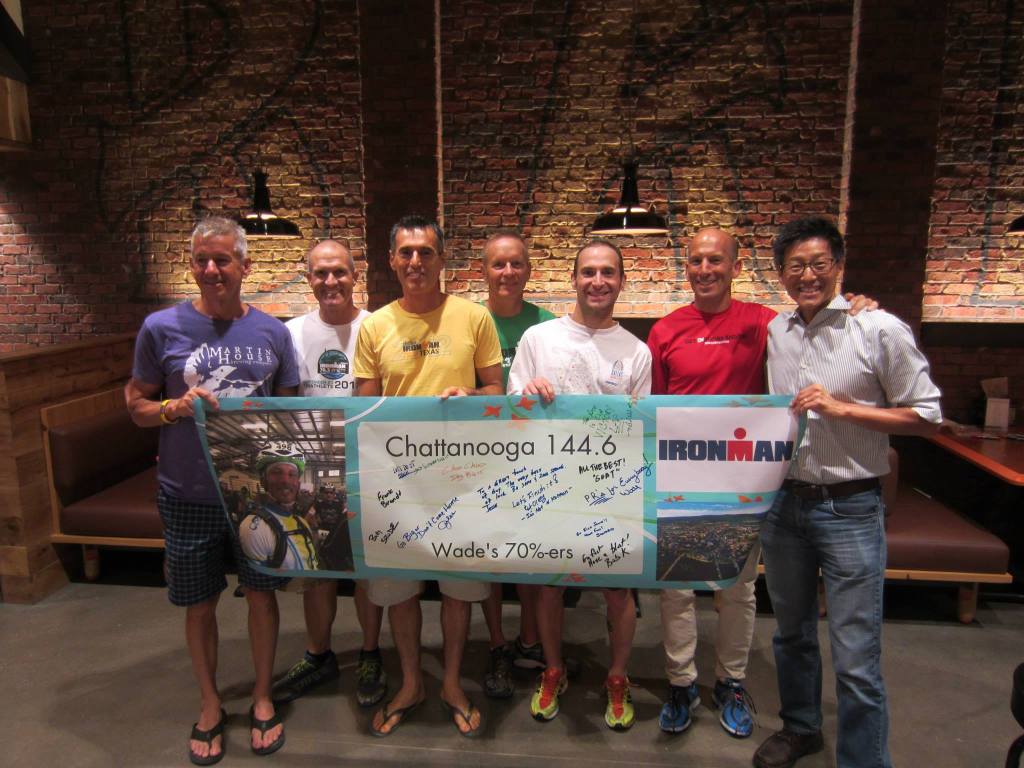 Wade – The namesake of Wade's 70 Percenters.  Some of us have been running with Wade for the last 6 years.  The name of this group actually started back then when Wade used to tell us to run all our track intervals at 70 percent.  Later on we would learn that the Ironman Bike leg is also to be ridden at 70 percent effort.  He is a multiple Ironman finisher.  An incredible athlete in all three sports and he is respected by all for his athletic ability as well as positive encouraging personality.  Unfortunately he just moved up to my 50-54 age group.  Chattanooga was to be his Kona qualifying race and we were all behind him.
Stick –  Roberto is an original 70 Percenter.  He was always the 2nd fastest guy to Wade when we ran at the track.  He is the fastest swimmer of our group.  Career changes cause him to move back to Brazil and back a few times so he was in and out of our training group (Bike training in Brazil is only safe on the trainer indoors).  These moves caused him to fall behind some of us in training as he ran his first marathon later than most of us.  Many months ago he got his level 1 triathlon coaching certificate and he has been a source of great advice to me.  He trains and races by the book, quite literally, whereas I know the book but seem to forget about it quite a bit when training and racing. Wade and I frequently hear him in the back of our mind saying "Ohh, you shouldn't be doing that" in his Portuguese accent.  Chattanooga would be his first Ironman.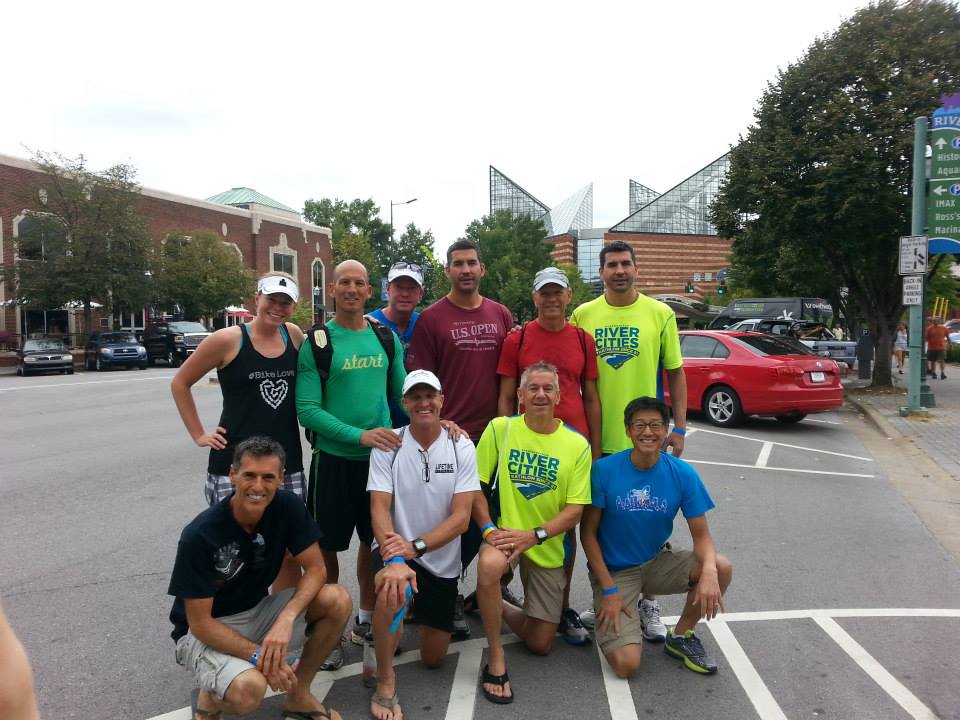 The Twins – Francis and Henry.  Both original 70 percenters.   These guys are so competitive between each other we have are many funny stories of how each has tried to one up the other in competition.  It may have been watching these guys compete in a local sprint triathlon that I started entertaining the idea of attempting a triathlon.  They both dominated the Clydesdale division until they lost too much weight and were forced to compete with the svelte age groupers.  In 2013 after a stellar IMTX performance, and after we had watched Goat and Dogbait finish their first Ironman at IMAZ, Frank got the bug real bad and was talking about competing in 5 Ironman's this year.  He subsequently got his priorities back in order and has cut back his training to spend more time with his family.  Henry trained with Frank and since Henry had moved closer to his brother we saw less of them during our training.  Chattanooga would be Henry's first Ironman after being sidelined by a shoulder injury which set him back many months from competing with his brother.  Frank and Henry dedicated their IM Chattanooga race to their friend Michael Buckley, A larger than life character I met at IMAZ in 2013.  Michael has recently been battling cancer and come to Dallas for chemo therapy and Frank and Henry have been taking care of him.
Goat – Jeff is one of the original 70 Percenters.  He has never met a stranger and frequently strikes up conversations with random people on the street.  He and I delved into the sordid world of triathlon together, my first race was his third.  I probably would not have attempted my first without his encouragement.  He found his calling in cycling in which he leads the Lifetime Fitness cycling group.  He has an uncanny ability to climb hills without apparent effort for which I nicknamed him Goat.  Somehow he has upped his swimming without training. On the few occasions when we have raced together I cherished the opportunity to give him an ass slap on the run because I can't catch him on the swim or bike.  Goat had a freak bicycle crash 6 weeks prior to the race where he dislocated his shoulder and broke a bone in his elbow.  He showed incredible resolve and perseverance to train what he could thru his healing and rehab process which amazed all of his training buddies.
Diaper Boy – Jason C. had been running with us at the track workouts and eventually got into triathlons.  He has had several nicknames, this one is from him wearing neoprene swim shorts that might be a little big when we swim in the lake.  Always has a huge grin on his face. He has dramatically improved his running in the few years I have known him, qualifying for the Boston Marathon recently.  He is known to be absent minded at times like most PhD's, sometimes forgetting to pick his girls up from camp, sometimes forgetting to ride on the right side of the road, and sometimes swimming off into the middle of the lake  passing our stopping point..
Dog Bait –  John H. is a farmboy from Nebraska, got his name because he attracts dogs that like to chase him and knock him off his bike.  He is one of two senior level executives I know that can run a company and skillfully operate a front end loader.  Very devoted to God and his family, he sets a good example for us all.  He's probably the quietest one of all of us.  We are all jealous that he was able to partially retire before he turned 60.
Drum – I met Michelle at my running club,  the Lake Grapevine Runners and Walkers, where she had been a long time member.  She started swimming with us in 2012 before her first Ironman in Arizona.  She came down and cheered at IMTX and for that I will always be grateful (See BQ or Bust post).  Always positive and cheerful, you know it is going to be a fun workout if she is there.  A tenacious competitor, I prodded her to do the Triple Threat at Hotter N Hell (Mountain Bike Race Friday, 100 mile road bike Saturday, trail half marathon Sunday).  She signed up at the last minute, was second overall female in the mountain bike event and ended up winning the overall woman's title for the triple threat on an inspiring trail half marathon.  Like me, she was not happy with her first Ironman performance so we encouraged each other to make sure we each had better races.
Baha – Jason B. joined our Friday morning open water swims a few months after Drum as he was competing in the same Arizona Ironman event.  The following year he joined us in IMTX training.  Next to Wade he has the most Ironman experience of the group.  I also trained with him for the Rocky Raccoon 50 miler and he loved the misery so much he signed up for his first 100 mile run that took place shortly thereafter.   His mental tenacity was illustrated by gutting out a run thru 94 degree heat on the run at IMTX as well as miserable wet and muddy conditions at the 100 mile race he was one of a few that finished.
Teri – We met Teri thru the Fort Worth Triathlon Club and she started joining us on our weekend long rides leading up to IM Chattanooga..   She had a terrible cycling crash training for her last Ironman and was on a mission to complete what she had started before the crash.  Very strong on the bike, she does not like to be behind other people and several of us were worried about her cooking herself on the bike during the race.  Very fun to train with and overly modest,  she claims she has never been athletic which made many of us laugh because of how strong she is on the bike.  Each Saturday I would leave a chocolate milk on her car after I was done riding to make sure she came back the next week.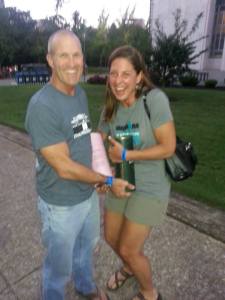 The Supporters:
Tibs – Byron has been a great friend and has provided support to me and many others in the local running and triathlon community.  He may run more races pacing others than racing himself.  With a quick Cajun wit he always comes up with some of the funniest lines.  Recently on a big comeback from chronic foot injuries he is getting back to being one of the fastest runners in the area.
Eeeee – Erin was friends with Drum and Tibs and came to Chattanooga mainly to support Drum.   Goat and I adopted her, taking some of her attention away from Drum (Not really but we tried).  She was instrumental in getting my knee back into shape to be able to complete the Ironman run.  Her personality brought a calming influence to the pre race  jitters some of us (mainly me) were experiencing.
Grinder – Grinder is a new triathlete that started swimming and cycling with us this year.  He came out to support and witness his first Ironman event in person.  We all look forward to following his path to his first Ironman.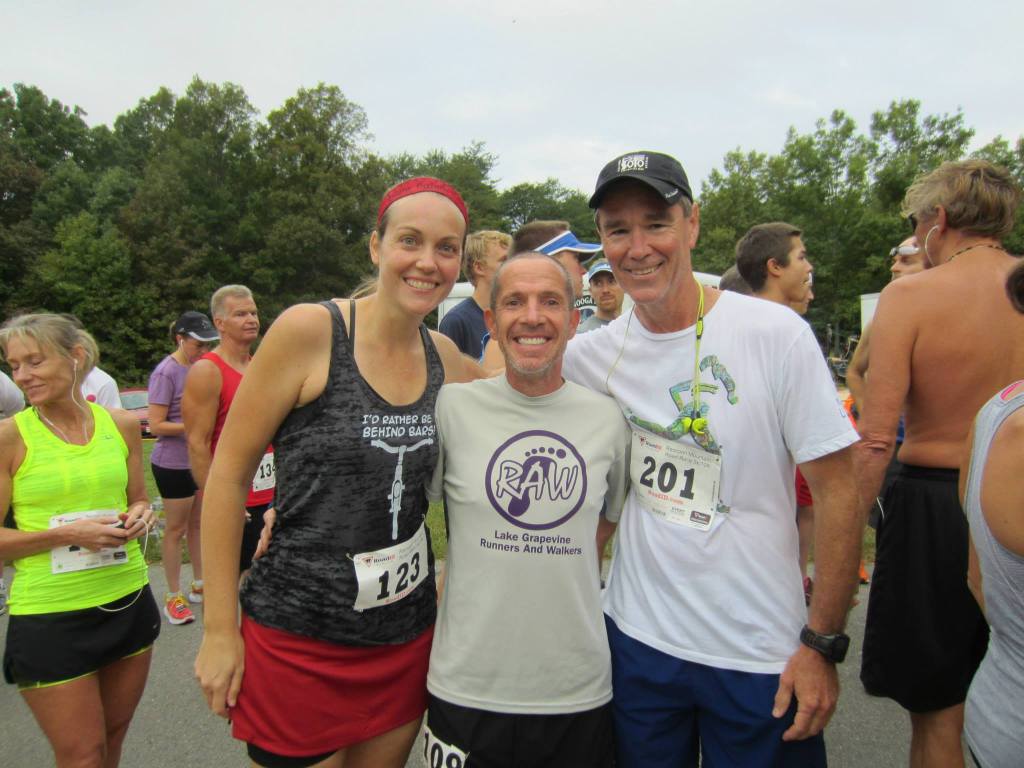 Both Michelle and Wades parents had come to support as well.  Two other Athletes, John and Scott  from the Fort Worth Tri club were also competing.  This was John's first Ironman and he brought quite the entourage of supporters.