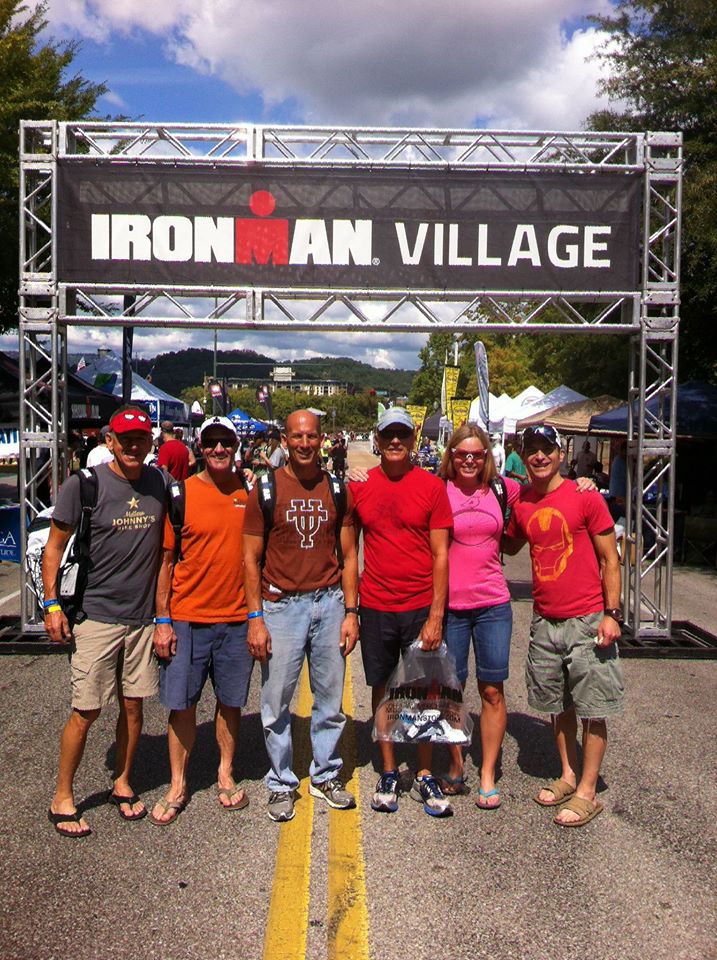 Saturday night before the race I think I was the last, of the four old guys relegated to the upstairs loft, to go to bed.  The loft reminded me of the seven dwarfs, four single beds (not seven like the dwarfs) all right next to each other so we could enjoy each others snoring during the night.   Wade was still awake and told us all how much he cherished being friends with us.  How sweet I thought and broke up that  tender moment with one of my nasty jokes.  As usual before every out of town race, I could not get more than 30 minutes of sleep.  I sleep fine when I'm on the road on business but something about a different bed and a race the next day prevents me from getting any sleep.  The same thing happened at IMTX so Sunday morning at 4AM I'm thinking "oh great, here we go again".  I made my breakfast as prescribed by Eve as the rest of the gang arose.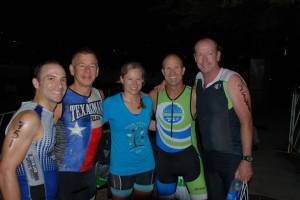 Frank, Jason C. and I had been swimming roughly the same pace during the last few practice swims we had done together.  We agreed it would be a good idea for us to start the together to push each other in the swim.  We met at the check in with the rest of our group then got split up.  We all got checked in, and hopped on the bus to the swim start after standing in line for what seemed like an eternity.  We had heard that the water temperature was 77 degrees, 1 degree too warm for it to be a wetsuit legal swim.  This meant if we wore our wetsuits we would not be eligible for age group awards or Kona World Championship slots.  Wade was the only one that would have a chance of a Kona slot so he was the only one to forgo the wetsuit.  The rest of us decided to wear wetsuits because the added buoyancy they provided made us faster and made swimming in crowds less traumatic.  I had remembered the mayhem at the mass start at IM Texas and it did not occur to me that the rolling start at Chattanooga would significantly reduce the amount of full contact swimming I experienced in Texas.  When we got to the swim start the line looked like it went on forever.  The non wetsuit swimmers would start first and the wetsuit swimmers would follow.  Most of the group went to stand in line to the porta-johns and I went in search of the rest of our group that had gotten on an earlier bus.  I walked down towards the front of the line to see if I could find them.  I ran into a fellow FWTri team member Scott and told him I would come back and find him if I couldn't find the rest of my group.  I got to the point where the non-wetsuit swimmers were and turned around.  It was still dark and my night vision without classes is pretty bad so I figured I had missed them.  I walked back toward the end of the line and finally found the group much farther back from the place I had originally started.  I told them I was going to go further back to look for Scott.  I walked for what seemed like a half mile until the  the line started to move forward.  Not finding Scott, I decided I better head back to the group so I didn't lose them before the start.  Our group had all found each other with the exception of Scott.  Wade was on his own with the non wetsuit swimmers.
As the line moved ever faster toward the water you could feel everyone's excitement increasing.  I think I was the first one down the dock.  Not knowing when I had crossed the timing mat, I took off to the end of the dock and jumped in, totally oblivious to where Frank and Jason were.  So much for plans.  Although the bouys were arranged in a curve I aimed for the distant bridge to try to swim as straight as possible.  Unfortunately I have an inherent flaw in my swim stroke that always causes me to veer left.  I eventually found myself 50 yards to the left of the main pack of swimmers so I did not get to enjoy any drafting affect off of them.  I noticed the bouy colors had changed so I stopped briefly to check my watch to see how far I had gone.  Damn I thought 1.2 something miles in 27 something minutes, If I keep it up this swim is going to be sub 60 minutes.  As I continued to swim I started doing all sorts of calculations to what impact a 60 minute swim would do to my 11:08 goal.  As I approached the first bridge I thought dang I'm too far left, I'm going to swim right into that bridge abutment.  I made the correction to swim way right to avoid swimming into the bridge.  I aimed to the right of the abutment of the next bridge, as I got closer I'm veering left and have to make another hard right adjustment.  After making it under the third bridge I saw the final turn bouy, rounded it to the swim exit without incident.  As I crossed the swim exit timing mat I hit the lap button on my watch, 56:XX cool, I'm way ahead of schedule, I was expecting at least 1:15.  I now could do a 6 hour bike and a 4 hour run and beat my goal.
I ran up to the transition tent passing a ton of walkers and grabbed my bike bag along the way.  It took me a while to find a place to sit in the back of the tent (might have been 10 seconds).  My tri top was sagging from being wet and the back is hanging open.  You don't want any sagging or open tops on the bike because they act like a giant parachute. I anticipated this happening happen so luckily I prepared and had an extra cycling jersey in my bike bag.  Just as I made the change in tops I saw Goat leaving the tent and I yelled at him.  I rushed to get my cycling shoes, helmet and sunglasses on so I can catch him.  No one knew I made the switch to the cycling jersey so they're looking for the tri top I started with.  I grabbed my bike and saw Goat running his bike on the other side of the racks.  We get toward the mount line and I heard Byron, Erin and Grinder yelling at Goat.  I briefly stood there miffed and yelled "where's my love" forgetting that I had changed jerseys.
The plan on the bike was to ride to 68% of my  max one hour power or 182 watts.  I knew I had about 5 watts reserve if I was feeling good I could use and possibly not hurt my run performance.  This was the book I was supposed to follow that I rarely did in the past.  I got started just ahead of Goat so I knew he was right behind me.  Together we rode thru the crowd  on the way out of town.  There were several rough sections with railroad tracks that had water bottles, CO2 cartridges, and other miscellaneous bike parts littering the road after getting bounced off the bike they belonged to.  It was like navigating thru a minefield, hitting any one of these items could cause a catastrophe.  After about 5 miles I looked down at my average power and I was over 200 watts and my HR was in zone 3 (it should have been in Zone 1 or 2).  I told Goat I had to knock back my effort I was riding too hot.  My HR started coming back down as I cut back the power I was putting to the pedals.  About a mile later I noticed a familiar Tulsa Tough jersey.  I was trying to position myself for the ritual ass slap on Drum as I passed her but it was still pretty crowded on the course and she drifted right just before I got close enough to execute safely.  We had a brief conversation, I forgot exactly what about, but it had something to do with staying within ourselves because we were smart (This was a common thing Drum had told me over the last few weeks). Then off I went, trying to keep my power down at my target level.
My nutrition plan was to eat 3 bonk breaker bars in the first 2 1/2 hours then switch to the liquid nutrition I had of Perpetuem in a bottle.  Perpetuem goes bad if it gets too warm so I had left another baggie of it with a bottle of water in my special needs bag.  My hydration plan was to drink a bottle of water at each water stop along the way and take a salt tablet with each bottle I drank.  This plan would have worked well if the bike aid stations were spaced every 10 miles but they were spaced randomly from 9-15 miles.  I ended up guessing most of the ride on how much water and salt to take.  I beat myself up pretty good long the route for not planning race hydration better.
Along the route on the first loop there were two spots where police had blocked off traffic in one lane.  In both instances there was sand laid over what appeared to be fresh oil.  I wondered why they would have scheduled road repair right before the race and later learned someone had put silver oil on blind spots in the pavement hoping to cause mayhem with the cyclists.  I also noticed on the first loop a lot of riders fixing flats in two locations.  I heard from another racer that they were pulling tacks out of their tires.  Oh great I thought with my Ironman luck I'm bound to pick up one of those.  I became more diligent watching the road for tacks from then on.
At the furthest South Point of the course (mile 33) I couldn't believe I was averaging 22 mph.  This was way faster than the 20.2 MPH the analysis from Best Bike Split calculated. I thought it must have been more downhill than I expected or the wind must have been to my back and it will get tougher heading back North.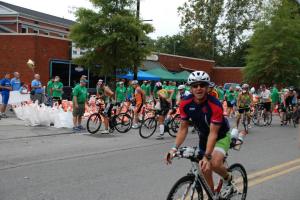 The special needs drop was at mile 52 of the bike course in Chickamauga, GA.  I was so far ahead of schedule getting close to Chickamauga that I hadn't started on the bottle of Perpetuem yet to see if it had gone bad yet.  I took a sip and it seemed fine so I decided I was going to skip picking up the special needs bag and mixing a new bottle.  Rolling into Chickamauga I started to get the urge to pee.   This was also the location where they shuttled spectators to to watch the bike leg.  The cheering crowds grew larger as I rolled into town.  I saw Drums parents and waived to them.  I notice the lines to the porta-johns were too long so I blew by them.  Then I saw Tibs, Erin and Grinder, hit the brakes, waved them over, tried to think of something funny to say, asked Tibs if he had any cigarettes or cheeseburgers because I was killing the bike and had time for a smoke or a cheeseburger.  Fist bump and hugs, I'm back on the bike for one last loop.  The turn back South is at mile 58.  I looked at my average speed and I'm averaging just over 21.7mph.  Still way ahead of schedule and the North leg really didn't slow me down that much.  I've done half the bike leg in 2:41.  I do the math and if I can maintain this pace I'll finish the bike leg in 5:22, 23 minutes ahead of my goal time.  I started thinking about the run and doing the math and thought I can run really easy now and still hit my goal 11:08 time.
At about mile 60 I finally caught up to Frank, he said Goat passed him and Stick is behind him.  How did I miss passing Stick I thought.  We rode together for a while and I had to go real bad.  So bad I think it is affecting my performance.  I refused to pee on the bike like most other triathletes but I'm starting to think about it seriously.  Finally I saw others on side of road peeing so tell Frank I'm stopping and will catch back up.  I went for what seemed like 5 minutes, it took forever and felt so glorious.  I heard traffic coming so as I looked to see where the traffic was I felt a warming sensation on my right foot.  Dang I thought, here I was going thru misery trying to stick to my principles by not pissing myself and I soiled my own foot.  After the sigh of relief I waited for traffic to clear and started off on the bike again, low and behold there is Stick.  After a little bit of conversation I told him I had just seen Frank and was going to push a little higher power to catch back up to him.  I started back to my target power.  Stick did not follow, sticking right to his plan as he always does.
I caught back up to Frank after a couple of miles.  We rode together for a while leap frogging each other so we wouldn't get a drafting or blocking penalty.  Frank said he wanted to ride with me to the finish so he could start the run with me.  I told him I was planning on running the first 6 miles at 9:00 pace then see if I could increase the pace.  He said he was planning on running 8:45.  I told him I could probably hang with that.  I went back to riding to my target power, looking back every once in a while to make sure Frank was still behind me.  I forgot how long it was but at some point I didn't see him behind me any more.  I checked again a few more times and figured he had stopped to pee.
At mile 80, the furthest South point of the course I turned back North.  I'm averaging 21.4 MPH and have 36 miles due North to get back to Chattanooga.  Nothing feels as good as being on that final leg home.  I kept my diligence looking for tacks, knowing that one flat can add a bunch of time to my race.  Along the way I talked with an Austrian guy who I had been leap frogging with that was riding the same bike as mine (except he has electronic shifting).  We both rode the hills easy and maintained power evenly in the downhills.  We got passed by several other riders and then passed them again on the downhills and flats.  We chuckled together every time it happened knowing those guys were killing their run by expending too much effort climbing the hills.  He said to me "we will crush them on the run"  I thought to myself "I sure hope so".  Eventually we lost each other.  But our conversation built more confidence that I am riding the bike portion correctly to set up a good run.
We passed thru Chickamauga one last time and I see no familiar faces.  I figure they had already left to catch us on the run.  The final 16 miles were still relatively easy staying at my target power.   It seemed easier than I remembered the last part of the bike at Texas being.  I followed the meandering roads back into downtown Chattanooga where the crowds are growing again.  There were people having parties in their front yards and cheering for us.  As I approached the  dismount line, I attempted a rolling dismount,  making sure I didn't catch my leg on the bottle behind the seat and almost crash like I did at Boulder 70.3.  I ran my bike across the timing mat and hit the lap button on my watch, 5:27, holy smokes that's 18 minutes faster than I expected I thought.
I grabbed my run bag, ran into the transition tent, changed to a running singlet but keep the tri shorts on rather than changing into the running shorts I had put in my run bag.  I donned the lucky Spiderman visor, and sunglasses, why I don't know, it had been mostly cloudy all day.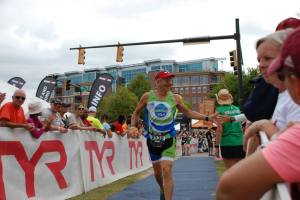 As I started on the run I saw Drums parents, slapped a few hands, and started doing the math again.  To beat an 11:08 all I had to do is run about a 4:30 marathon.  Cool I think, this should be doable.
My original plan was to run 9:00/mi pace for the first 6 miles then try to maintain 8:30 as long as possible.  I started the run easy without looking at my watch.  After 1/2 mile I looked down to see I was running about 8:00 pace but my HR is low, my effort felt easy, so I decided to keep at that pace.  I thought to myself "what are you doing dummy, you've been here before".   I walked the aid stations about every mile taking in a cup of Perform and water each time as planned.  Just before the 3 mile mark I saw Goat ahead of me, he was in the middle of a walking break.  I yelled ahead to get ready, he waved me by like he knew the traditional ass slap is coming.  I stopped and walked with him a bit, told him I didn't get getting sucked into his riding too hard trap,  gave him a half hug and told him to keep it going.  Off I went again, back in my happy place, running.  At the mile 4 aid station as I was walking my knee locked up.  I thought "I knew this was too good to be true".  It happened again at the 5th and 6th mile while I was walking thru the aid stations.  Since my knee felt fine running I decided I'm going to have to just jog thru the aid stations.  I made it thru the 8 miles South of the river unscathed, averaging 8:05/mile pace.  Other than the small knee issue I felt great.  I knew Tibs was monitoring my progress online and laughed to myself imagining how pissed he would be at how fast I was running.  I heard the 4 miles on the North side of the river are very hilly so I was anxious to see how bad they really were.
The North side has a long out and back hill and a few others mixed in.  It felt absolutely effortless running them at the same pace.  As I was coming down the last hill I saw Goat the next street over headed to the first hill and yelled to him "The hills aren't as bad as they seem".  I wasn't sure exactly how far behind me he was but remember being surprised he was that close since the last time I saw him he was walking.  While crossing the bridge back to the South side of the river I noticed  I was averaging 8:03/mi pace.  I started bubbling over with emotion and had a hard time breathing, almost like asthma.  I couldn't believe I was killing the run.  At  almost the halfway point in the marathon I started doing the math and figured If I ran a 2:50 half marathon to finish then I will still hit my 11:08 target.  Then it hit me,  If I can push the pace a bit more I can get sub 10:00,  Holy shit Sub 10:00!  I got off the bridge and shortly thereafter saw Byron, Erin and Grinder.  The look on Byron's face was priceless, like what the hell are you doing here already dude.  I'm sure I had a big ass grin on my face as I flashed the thumbs up.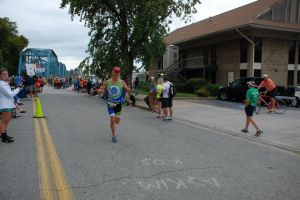 I tried to maintain the pace on the flat South side, having a few more emotional episodes along the way.  At mile 14 I passed Scott who was walking (it was his first mile on the run).  I stopped and walked with him a bit.  He said he was not having a good day.  I told him I had gone back in the swim line to find him but was sorry I hadn't.  We exchanged "good lucks" and I was back on the run.  At mile 17 I saw a familiar Lifetime Fitness singlet ahead, it was Wade.  I thought how the heck did I catch him, I've never caught him in all our years racing together?  I ran with him a bit, he told me his hamstrings were knotting up.  I told him I thought I might be able to get under 10:00.  Then I took off and started thinking he's the one trying to qualify for Kona, I need to help run him in.  I wasn't thinking that he started the swim way ahead of me and that his chances to qualify were not good if I had caught him.   I stopped and waited for him to catch up.  I told him to run with me, he replied "what the hell are you doing! get going".  I really felt bad for him as left him.  He had trained hard and had his parents here with him.  There was no doubt in anyone's mind before the race that he was going to qualify for Kona.  I had run with him since the early days of my endurance journey and knew how proud he was that I was having a great race.  I was even more motivated to finish strong and try to get in under 10:00.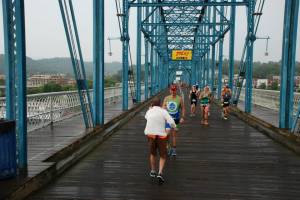 At mile 20 I had gotten my average pace down to 7:59/mi.  I just had a 10K left and calculated if I could run a 45 minute 10K I could get sub 10:00.  That's just about 7:30 pace.  45 minute 10K's are not difficult for me in a standalone race but this was the last 10K of an Ironman and I had those wonderful 4 miles of hills to contend with.  I thought what the heck let's just see what happens.  Before mile 21 there is a bridge you cross right above where the one mile run mark is.  I glanced down to see a familiar Fort Worth Tri kit and recognized John.  I stopped for a moment to cheer him on.  He waved back and I continued on my way.  I crossed the bridge to the North side, started up the first hill, the legs weren't feeling near as strong climbing the hills as they did on the first loop.  My pace  dropped badly off the 7:30 pace I needed.  At about mile 22 I decided I'm not going to get sub 10:00 so might as well enjoy the last few miles and whatever time I got was going to be a huge PR.  I want to mention the spiderman visor helped lots along the way.  I constantly got cheers of "go spiderman" while I was running.  I think it was enough to get my mind off each little pain and keep me going.  Coming across the bridge the last time I saw Tibs, Erin and Grinder cheering ahead.  Tibs had his phone in his hand and said he was talking to our friend Amy.  I stopped, grabbed the phone to say hi, she congratulated me and invited me to a dinner party, I thanked her and gave Tibs his phone.  Tibs yelled to run it in strong so I did knowing I had less than a mile to go.  I got off the bridge  made a left turn to a large crowd, the emotion started bubbling once again, I lost it a little and tried to recapture my breath and made the left turn towards the finish.  The crowd thinned out again and I was able to regain composure,   As I approached the finish line the crowd became more dense, I was running pretty hard and heard Mike Reilly announce "John Studebaker from Hurst Texas, You are an Ironman", then an uncomfortable pause, "Fifty Three Years Old" like he can't believe it.  Emotion erupts into tears, I tried to cover my face with my arms so no one can see how I'm crying like a blithering idiot.  I hit the lap button on my watch for the final time after I crossed the finish line.  10:04 something, how about that dad.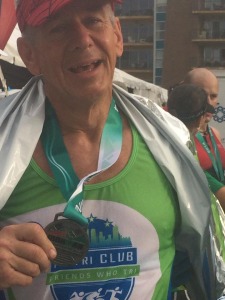 Tamara, a running and triathlon friend who was there as part of John's entourage was near the finish line when she unexpectedly hear my name announced.  After I finished I heard her yelling over to me.  She got a picture of me showing my medal with remnants of my tears. The catcher walked me thru the food line which I wanted none of then she asked if I wanted to go to the massage tent.  I declined both because I wanted to watch the rest of my friends come in.  She wasn't going to let me go unless I was accompanied by family or a friend.  Luckily Tamara was still there for her to release me.
Tamara and I walked over to the bridge where Tibs, Erin, and Grinder were to cheer in the other finishers.  After congratulatory hugs and fist bumps from them we cheered as Stick, Baha, Goat, Frank, Diaper Boy, and Dog Bait passed on the way to their finish.  Henry, Drum and Teri were due in the next 20-30 minutes.  I hadn't eaten anything since I finished so I decided to go back to the food tent and wait for them there.  I missed Henry's finish on my walk to the tent.   I think I may have had six slices of pizza and two Cokes, which I never drink.  I noticed Drum getting her photo with her finishers medal and gave her a hug when she walked in the food tent.  She had nailed her goal time for the race and was very happy to put the bad race behind her, just as I was, because we were smart and stayed within ourselves.
After we walked out of the food tent we gathered with the rest of the gang and shared highlights of the race each had.  Later we gathered up our gear and bikes and hauled them to the cars.  Baha and I had spectated IMAZ to the end of the race the previous November when Goat and Dog Bait raced it.  It was an incredible experience witnessing the human spirit persevere for close to 17 hours.  We both knew we wanted to stay to have that experience again.  Besides, Erin needed a ride back to the house as she was volunteering on the last shift at the massage tent.
Erin went to her volunteer duty and Baha and I gathered with the rest of the Fort Worth Tri club group there to cheer on John.  His pace had dropped and he was dangerously close to missing the cutoff time.  Roberto and Tamara went out along the run course to find him and bring him in before the cutoff.  Baha and I stood along the finishing chute about 100 yards before the finish line.  We cheered every athlete.  A little after 11:00 Scott ran by for his fourth Ironman finish.  We were still wondering if John was going to make the 12:15AM cut off time.  At about 11:45 we saw him jogging down the chute high fiving everone he could. Roberto and Tamara had gotten him to pick up his pace. We watched as he approached the finish line and hammed it up with Mike Reilly.  15 hours and 49 minutes after he jumped off the dock, John heard for the first time, "John Grogan you are an Ironman".  And I thought although I had completed an Ironman race before, THIS was the race I wanted, not Texas, I finally felt like I was really an Ironman.