The Peak
After living on cloud 9 for a week after Chattanooga I might have tried to come back a bit too soon and did not heed the 2 week recovery time rule.  I ran 8 and 13 miles the following weekend, my knee did not agree and I had to take 8 days off from running.  You'd think I'd learn from this but I never seem to.  Like I've said before, I've not been accused of being a smart runner.   The FIRST plan calls for 3 quality workouts per week (Interval work, Tempo run, and Long Run).  I was using the 3:10 marathon plan but modifying my long runs to be slower in zone 1 heart rate for the most part but would try to run the end of them closer to marathon pace.  Just before IM Chattanooga, my bike mechanic told me my triathlon bike chain had over stretched and I probably needed to have the entire drive chain replaced.  So I put the tri bike on my trainer in the office and mainly rode my mountain bike two or three times a week.  My rides on the mountain bike were not near as long or at the same intensity as they had been during triathlon season.  I had used the FIRST plan before and felt it did not have enough running miles per week to make the legs durable enough for 26.2 miles.  Because of this I added two more runs to my training weeks.  This was usually an easy zone 1 run on Monday or Tuesday and another aerobic run with Michelle at her tempo pace.  It was a lot of fun running with her as each time we'd push her limits a little more.  At the end of these runs I'd look back and see a big ass grin on her face or hear some unexpected jubilant cusswords after she had pushed herself a little further.  The pace we were running for these tempo runs was not as fast a prescribed for me but consistently got faster, approaching 7:00 pace which still provided a decent training stimulus for me.  I was getting my quality tempo runs in on my own and ran my intervals with the run club track group.  The track work was the hardest for me as the prescribed paces were very aggressive.  I cut several of the weekly track workouts short or would skip them altogether if I had a race that week.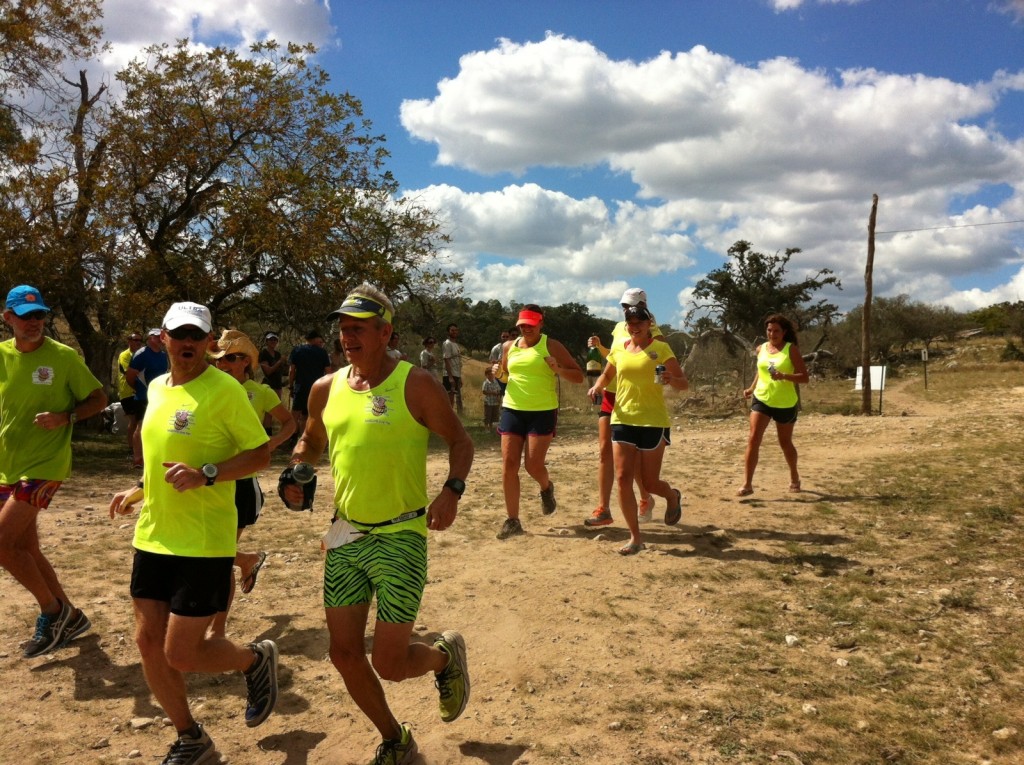 October 18, 2013 – Ragnar Trail Relay is a race I ran with seven friends from our running club.  I had many other friends there racing who were on other teams.  All the teams set up camp in a central location and each of the three legs you had to run returned to the same start/finish line.  Between legs we sat around talking, drinking beer, and trying to get a little sleep while the others ran their legs.  I  learned the power of "will" at this race.  We arrived about 2:00PM , our race started at 3:00, my own race legs were at 10:30 PM, 5:30 AM in the dark, and about 1:00 in the afternoon heat.  With little sleep, several beers between the legs I really felt strong running my relay legs, I wasn't just running for myself I was running for my teammates..  I had never run hard in the dark with a headlamp but I was passing other runners (Roadkill) like crazy in my two night loops.  I ran the anchor leg for our team, when my final leg came up Troy, our team captain, told me I needed to run hard to get us under 24 hours laying down the challenge.  Mind you, Troy runs lots of of Ultra marathons and is  regarded as one of the best runners in our running club.  He is also in my age group which adds a bit of a target to his ass for me.  Throughout the race we tracked everyone's times and I had bested Troy on my first two legs,  No way was I going to let him get the last one.  I ran the final leg as hard as I could, paying little attention to my heart rate, bested Troy on the last leg, and got the team under 24 hours.  Michelle rewarded me with a beer at the finish line.  On trails pace is not a good indicator of how you are doing, I had to ignore my HR most of the time and willed myself to run all the legs hard but not too hard.
Since her last attempt to qualify for Boston I had pestered Michelle about letting me run with her again during her next attempt.  On the drive back  she told me she thought she wanted to run it alone to prove she could do it herself.  This was bittersweet as it would allow me to continue my plan to run 3:15 at Dallas but I wouldn't be able to complete the unfinished business I had to get her into Boston.  I told her I was fine with that, but wasn't sure how i really felt.  Too many conflicts.  Oh yeah, I hit a deer for the first time on the trip back. Or should I say the deer hit us, seemed like the damn thing went out of it's way to run into me swerving over onto the left shoulder of the road.  Great way to finish off a weekend adventure.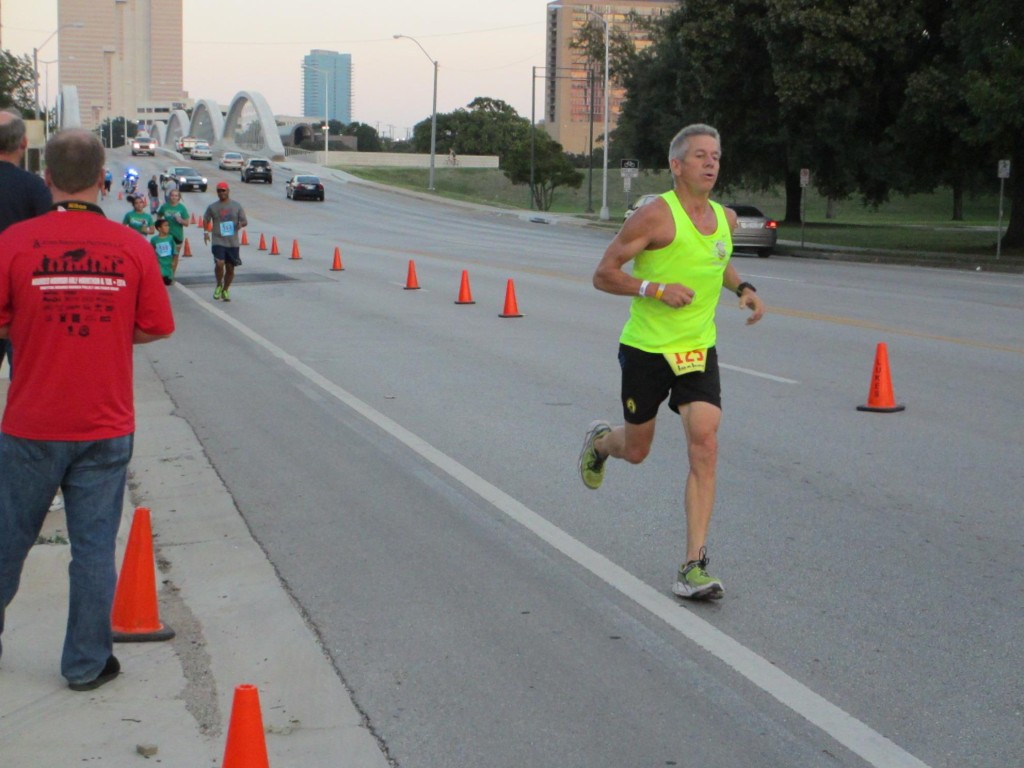 October 23, 2013 – Friends of The River 3.4 mile.  I've been running this race for the last few years mainly because of the incredible post race food and drink.  They also give "Fast Fish" shirts to the age group winners and I've been collecting these shirts (different color every year).  My buddy Wade has run most of these with me as well.  I started much harder than I should have and found myself still keeping up with Wade (usually a much faster runner than I) after about a half mile.  I was running really hard and decided to keep pushing it to see what would happen.  As usual Wade ended up pulling away from me after 2 miles.  I remember looking down at my watch at 3.1 miles and seeing 19:11, I hadn't run a 5K this fast in several years.  My speed was coming back.
October 25, 2013 – I completed my first long run of 20 miles, incorporating my run clubs Double Trouble 5K and 10K races.  I didn't run the races hard but ran them to my goal (7:15/mi) marathon pace.
In October I had increased my weekly mileage into the low 40's.  I had completed only one long run since Chattanooga, the next longest was 13 miles.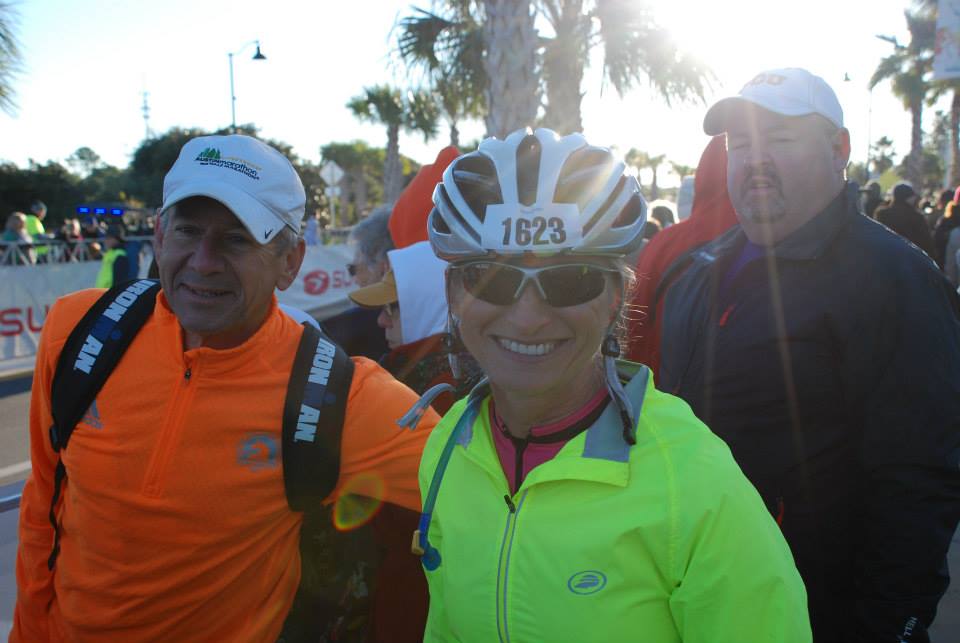 November 1, 2013 Panama City IMFL.  My bike buddy Debby signed up for Ironman Florida for some unknown reason (actually at my age I know why).  She can't run but is an incredible cyclist.  When she told me she was going to do an Ironman I promised I would be there as a threat to keep her from quitting (her swimming was my biggest concern), but also I was planning on volunteering so I could enter the race the following year.  I had a number of other friends racing as well.  For most of them this would be their first Ironman so it was really cool to witness them become Ironmen.  My friend Erin was also there to cheer.  She was in the midst of her first structured training plan for the Blue Red half marathon.  After watching our friends go thru the trauma of the cancelled swim and then seeing them off on the bike, Erin and I ran 5 miles at her pace then finished the rest of our runs on our own.  I ran 9 miles on the rest of the Ironman run course at tempo pace, I was about 30 minutes before the pro's getting off the bike.  Since it is mostly an out and back loop I was able to see the pros running which was really cool.  Another awesome weekend supporting friends and getting in a quality run.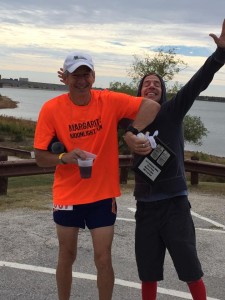 November 8, 2013 – Rockledge Rumble 30K.  I missed this race the previous year because of my injury.  This year I ran great!  The start is down a paved road and I got passed by a ton of people.  But when I hit the dirt I started picking them off one by one.  I ended up racing another of my 50-54 run club buddies John W., for half of the race.    He is long and lean and runs like a gazelle.  At about the half way mark I think I passed him and started to pull away.  It was here I gained great confidence in the endurance I had built thru the year of Ironman training.  I was able to run hard for 2:40 and ended up being the overall masters winner.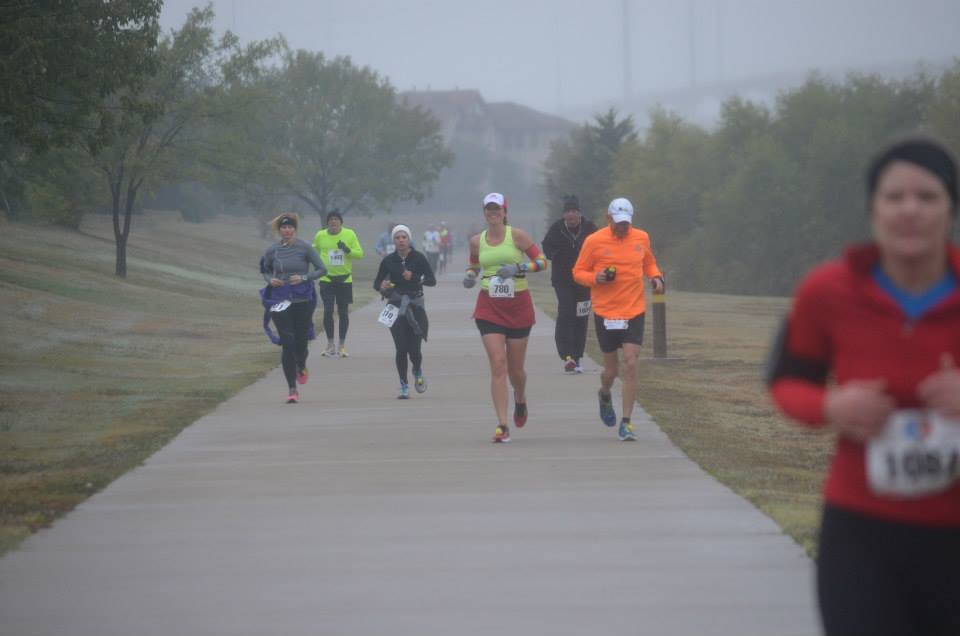 November 16, 2013 Blue Red Run – I ran the first 10K fast as hell then stopped at my running clubs aid station and waited for my pal Erin to come by so I could run with her to her half marathon PR (This was the plan, another independent woman wanting to see what she could do on her own).  At the end she had a look of shock on her face as her friends mobbed her to congratulate her.  After that she came by to give me a big hug.  What training purpose did this run have?   A great 10K tempo training run, but most of all the satisfaction of helping a friend reach her goal.
After all our weekly runs together it became apparent Michelle was ready to re-qualify for Boston.  She had originally targeted the Louisiana Marathon that was the same day as Houston in mid January, the BCS marathon was just a few weeks away but unfortunately was on the same day I was running Dallas.  Michelle wasn't quite convinced she was ready so we decided a 20 mile run at race pace (8:00/mile) would be a good indicator of how prepared she was.  On  November 22nd we ran 20 miles.  As usual we ran slightly faster than our goal paces.  We started on the East loop that took us out 6 miles and decided to alter the path to run by the Gaylord Resort.  At 6 in the morning all their Christmas lights were still on.  It was really cool to run down their entry with all the trees lit.  We ran back to the normal West course which we both enjoy more and when we finished we had averaged 7:48 pace.  Pumped fists, language a sailor would cringe at was the resultant reaction from her.  She then started talking about maybe wanting me to run with her during her marathon after all.  Through all our training runs together I pushed her a little harder out of her comfort zone, and I was not running too hard to injure myself but running longer than I normally did.  We fed off each other this way since our IM Chattanooga training and the fact we had much to talk about between running, mountain biking, percussion (She the teacher and Murphy the student), the runs seemed to happen effortlessly.  She went camping with her family over the Thanksgiving week and cut back significantly on her running replacing it with mountain biking.  I was a bit miffed as consistency is the number one rule to any athletic training and in my eyes this big gap in running would hurt her.  Turns out she was right, the days off from running weren't enough to hurt her.  It was an amusing text spat we had though.  She said she would keep her eyes on the weather and sign up for the BCS marathon if it looked favorable.  I told her if she wanted me there I'd sign up when she did.  I still had Houston as my target race and I could just use running with her at BCS as my long run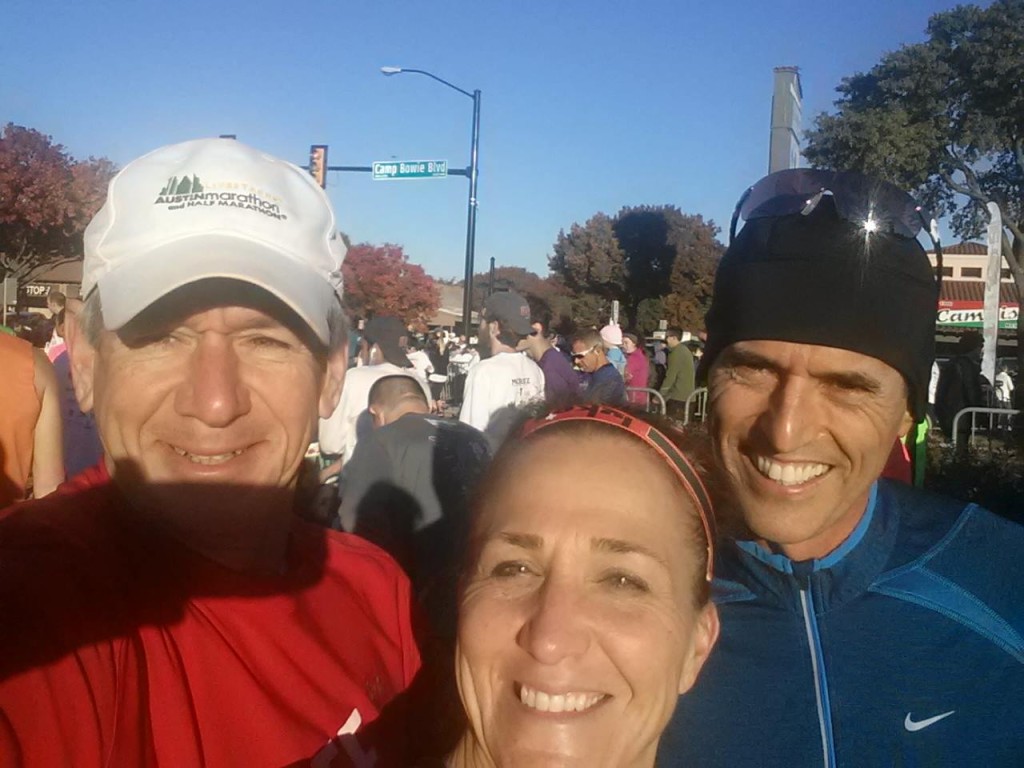 November 27th – Fort Worth Turkey Trot 10K.  I've run this race the last few years with my friends Wade and Roberto.  Roberto had usually beat me in the past so out of fun I challenged him at this race.  Wade had recently hurt his knee so he was not running but came out to cheer us on.  I'm glad Wade was there to watch my dominance over Roberto.  Ha!  I ran a 39:29, the fastest I had ever run a 10K before.
In November my weekly mileage was in the low 50's.  I only did two long runs separated by two weeks, The Rockledge Rumble 30K which was more like 20 miles, and a 20 mile marathon pace test run with Michelle.
On December 4th Michelle signed up for the BCS marathon.  I follow suit. I might have teased her a bit leading up to the the race that I might do Dallas if the weather was better.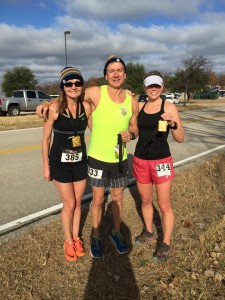 December 6, 2013.  Isle Du Bois 20K.  This race cemented my love for shorter distance trail runs.  I was 2nd overall male.  I had a fun time racing a 30 something Ironman for 2nd place.  We jockeyed back and forth for almost the entire race thinking the first place guy had left us in the dust.  With less then a mile to go I caught my foot in a root on a downhill and took a pretty bad fall.  He stopped and asked if I was OK and in my normal pissed off way after falling waved him off and told him to get going.  I ended up passing him about 200 yards before the finish.  Since this was a week before Michelle's marathon the plan was for Michelle to run this at marathon effort.  I'm not real sure how successful she was holding back as she finished as the 2nd overall female.
On December 9th I did another MAF test and was very please with the results.  My pace at 131 BPM heart rate was down to 7:42/mi.  I had made good progress since Chattanooga.  But I started noticing I had a pain on the right side of my foot in the Hoka shoes I had been wearing for the last 6 months.  I think catching my foot in the root at the IDB trail run might have strained something in my foot.  I changed shoes to an old pair of Adidas and the pain ceased.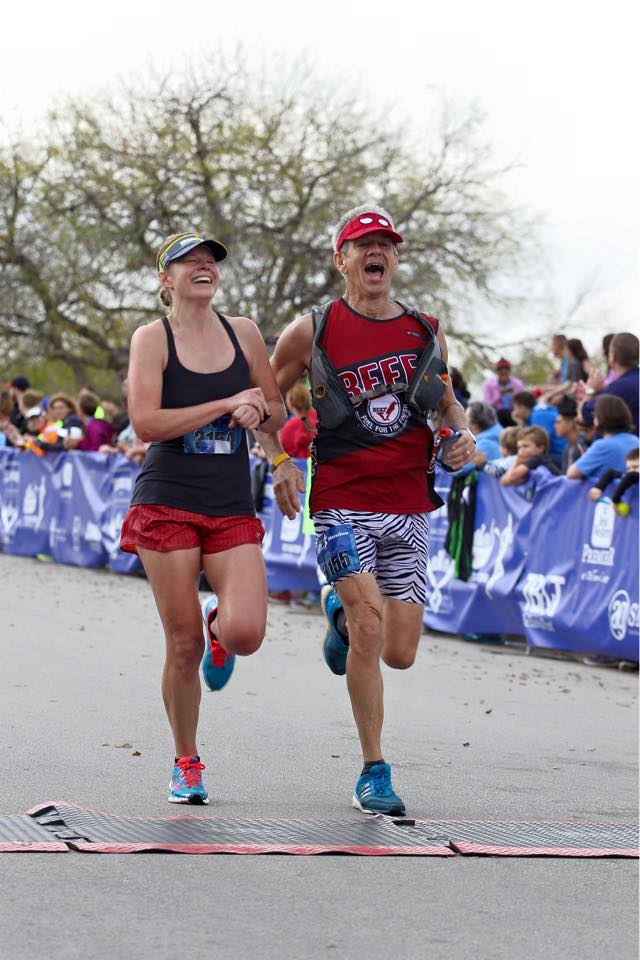 December 14th – BCS Marathon.  Stupidest thing to do you might think.  I had already signed up for the Dallas marathon the same day.  I was running strong.  My goal was to run a 3:15 at Dallas before I ran a 3:10 at Houston.  But I took one for a friend and am so glad I did.  I had run with other friends before during races trying to help them hit their goal times and got great satisfaction when they nailed their goals.  But this time I had invested a bunch of time in this friends training runs.  And the last time I paced her although she just qualified for Boston she did not get in.  It was my opportunity to take car of unfinished business.  The weather forecast turned sour, it was going to be warmer than usual with the chance of rain.  I kept reassuring her despite the weather she was more than capable of achieving a big PR.  I ended staying in a flea bag hotel as there also happened to be a pokemon convention in town the same weekend.  As usual at an away race I got very little sleep.  I had researched every mile of the course with the plan that we would run even effort as much as possible for the entire race.  Slow uphills and fast downhills.  It was one of the most enjoyable runs I had been on.  Although the weather had turned warm she held an 8:00 pace almost the entire way.  I think it was mile 14 when she cussed at the Corps of Cadets telling them how she was crushing her PR.  Being a Longhorn I got a get a good chuckle when anyone cusses at them.  I think it was mile 22 when she said shit (actual words might have been more offensive) I'm going to do this.  I started thinking this was harder than I expected, the heat was making it more than an easy run for me.  Santa and Mrs Claus were ahead and I really wanted to get a photo with them but resisted thinking Santa might get offended by Michelle's foul mouth.  At mile 24 she said she was really struggling so I told her we only had 15 minutes left, 10 minutes, 1 mile, 800 meters, she saw the finish and broke for a sprint.  You can see the elation in the photo above. This may have been the most satisfying race of the year for me.  I had invested in Michelle's training, made small sacrifices in my own training and racing, and was rewarded by her tenacity to exceed her goal and qualify for the Boston Marathon with over 9 minutes to spare.  Just an awesome feeling!  It wasn't just about the race we agreed, the journey was what was so special.
I still had 4 more weeks to Houston.  Christmas week I drove to Michigan with Kim and Murphy to spend the holiday with my family.  I ran by myself in the cold wet weather and did not hit my goal paces on any of my runs.  I might have gotten a little discouraged.  I really didn't want to do my last long run in that kind of weather so I planned our return to Texas so I could run at my run club on the Sunday after Christmas.
December 28 – My final long run was 19 miles the morning after driving 20 hours back from Michigan for the Christmas holiday.  I ran the first 6 miles relatively easy then ran the next 12 just above and below 7:00 pace.  I noticed my HR was higher than it had been before the holidays running at the same pace.  Might have had something to do with the 7 pounds I had added to my weight. It was time for me to begin the Taper phase.
In December my average weekly mileage was in the mid 50's.
In 2014 I had several PR's, age group and masters (40+) wins.  It is evident I raced a lot and I credit a lot of my performances to the consistent racing.  It was also the year I learned more it's not all about the pretend athlete.  It is a lot of fun being with others as they push new boundaries athletically.  Not just racing but in training as well. Satisfaction doesn't just come from exceeding your own goals but it is more gratifying being a part of someone else exceeding theirs and their journey to get there.