Why am I posting again?
A friend congratulated me on my Houston Marathon performance the other day at the gym.  She is an awesome runner who has had a nerve injury that has progressively gotten worse and prevented her from running for the last year.  She told me I was inspiring to her and many others although I didn't know that.  She said "people are watching you, when they see you do these amazing things they see there is possibility they can too".  Needless to say that made me feel great.
I have had a large number of people ask me for advice on their running lately.  I am no coach but I have read quite a bit on training theory and experimented quite a bit to see what works and doesn't work for me.
After recently running the BCS Marathon with my friend Michelle, we both agreed the journey to her 9 minute PR (Personal Record) was the most enjoyable part of her race.  So rather than focus on the race I thought I would describe the journey.
Hopefully writing about the journey to my 3:05:09 time in Houston will inspire, shed light on my training, and describe the 14 month journey to get there.
It's All About The Base
After a prolonged (mostly from trying to come back too soon) recovery from my knee injury I began running pain free again in November of 2014.  Earlier that year in March I had signed up for my first 50 mile race the Rocky Raccoon 50 that was to take place in early February 2015.  Not wanting to waste another race entry I thought I could ramp my training faster then any sane run coach will recommend.    Almost every single one of my runs was very slow with my HR (Heart Rate) in Zone 1.  Closer to the 50 mile race I started adding back to back long runs on Saturdays and Sundays with my buddies Wade, Lee and Jason who were also going to race Rocky 50.  I think I went from 20 miles to 70 miles per week in the matter of 6 weeks.  DON'T DO THIS, you will probably get hurt.  It's much safer to ramp your weekly mileage no more than 10%.  I say this more for personal liability issues than anything as I've not been accused of being a smart runner often.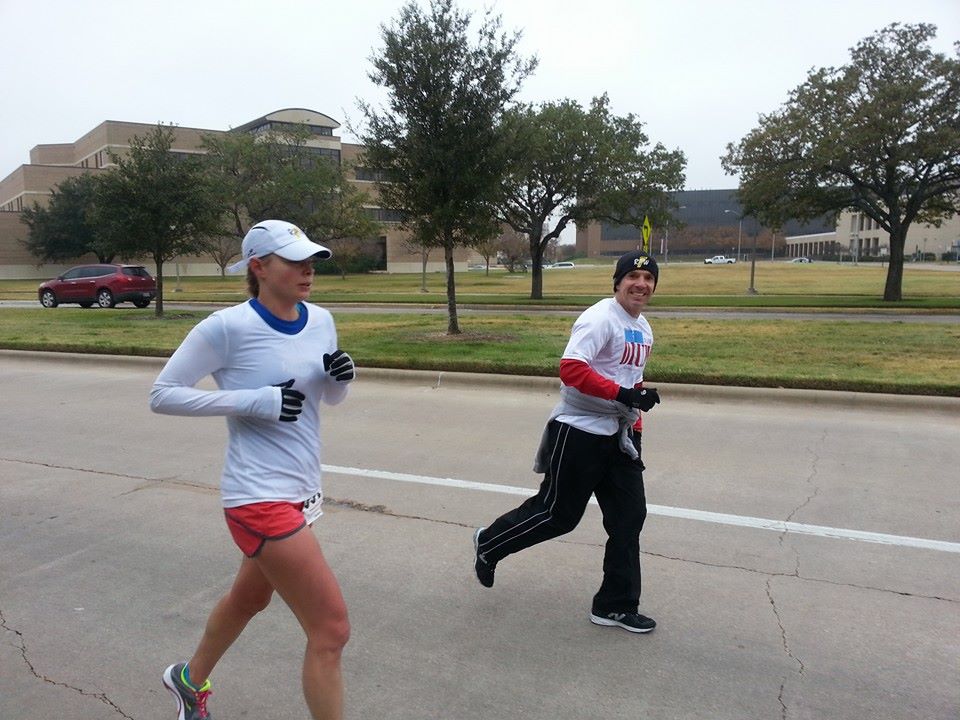 Dec 8 2013 – (See my post BCS or Bust)  I talked my friend Michelle into running this instead of Dallas for her Boston Qualifier race and felt a bit guilty so felt I should participate.  I had become so out of shape from the knee injury that 8:30 pace for 10 miles I ran with her was tough.  I got great satisfaction in helping a friend BQ but had a big wake up call about how far my fitness had fallen.  I knew from all the reading on running I had done that I needed to develop a big base to build upon.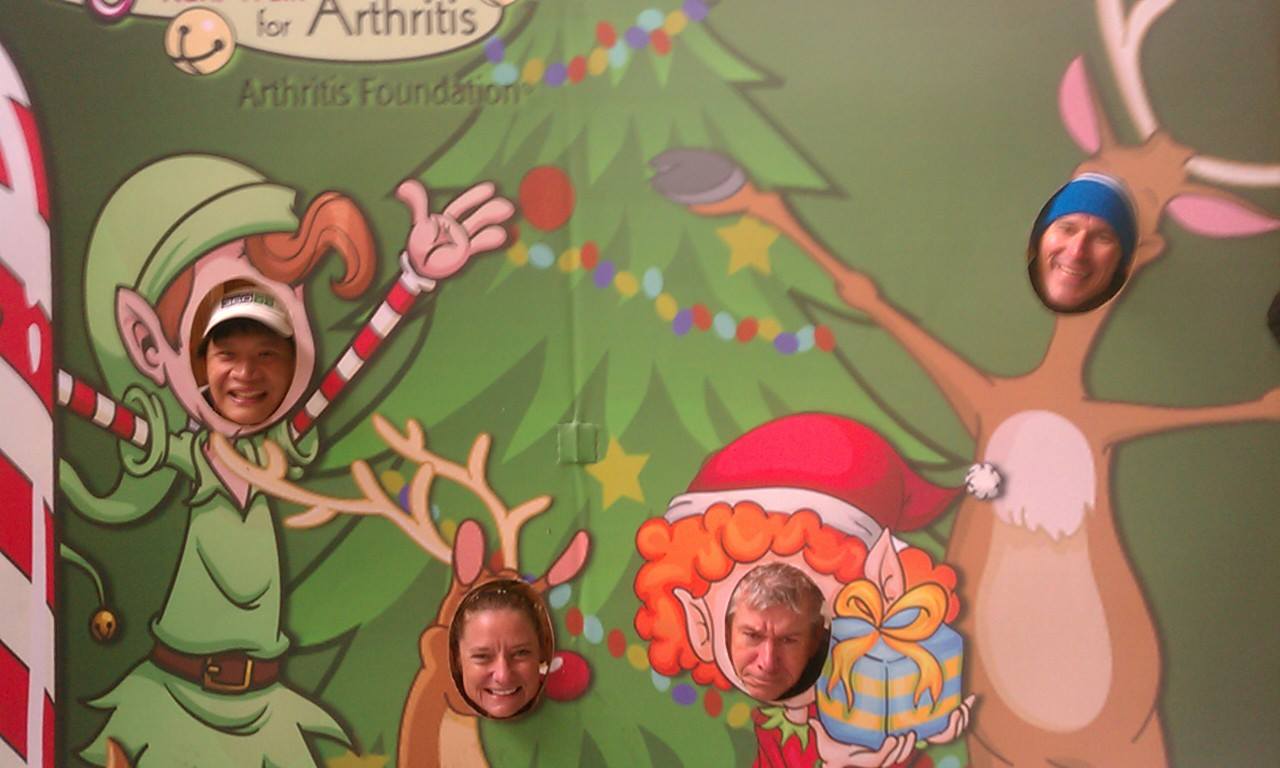 Dec 14, 2013 – Icenado Revenge Marathon.  One week after BCS I decided I could do a long slow marathon.  I ran it all in Zone 1 with my buddy Andy Wang.  My friend Lee also ran it but he ran it hard and had an awesome time.  The next day Andy and I ran the Fort Worth Runners Club 10 mile race.  Once again all in zone 1 but I remember how painful it was after running the marathon the day before.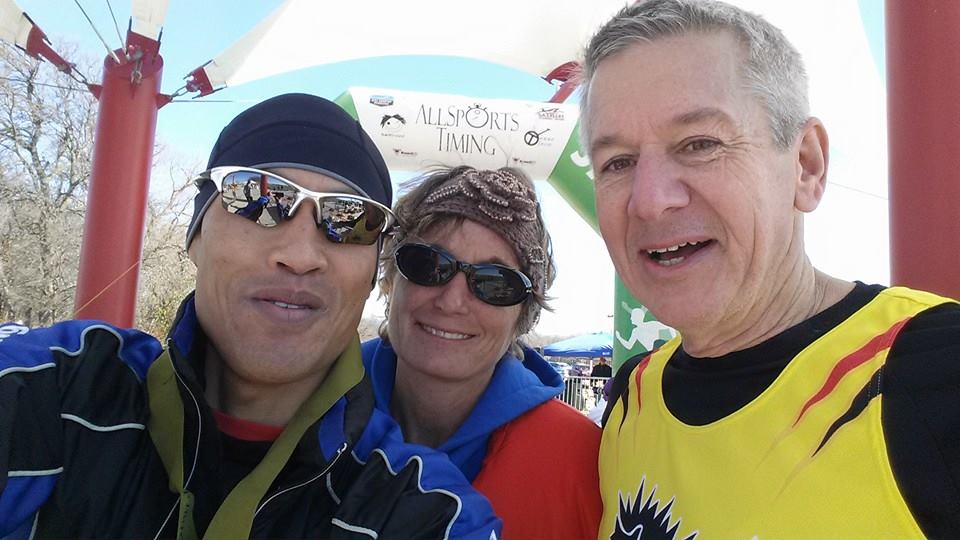 New Years Eve 2013/Day 2014 – First Double Marathon.  I started the year with the back half of the New Years Double Marathon (two marathons in two consecutive days).  I entered these races to use them for training runs for the Rocky 50.  I also talked my buddy Lee into running them with me, his first double as well (he hasn't spoken to me much since).  These races are very popular in the area and I had a lot of friends running them.  My buddy Elizabeth M. was volunteering there and kept and eye on me to make sure I was doing OK.  I won't do this again.  Double marathons suck, you can't run them fast and the course these were run on is a completely flat multiple loop courses that will not only kill your legs but drain you mentally.  First double marathon, box checked.  I'm convinced it did wonders for building my base as well as my mental fortitude.  Running a second marathon on tired and sore legs will make anyone tougher.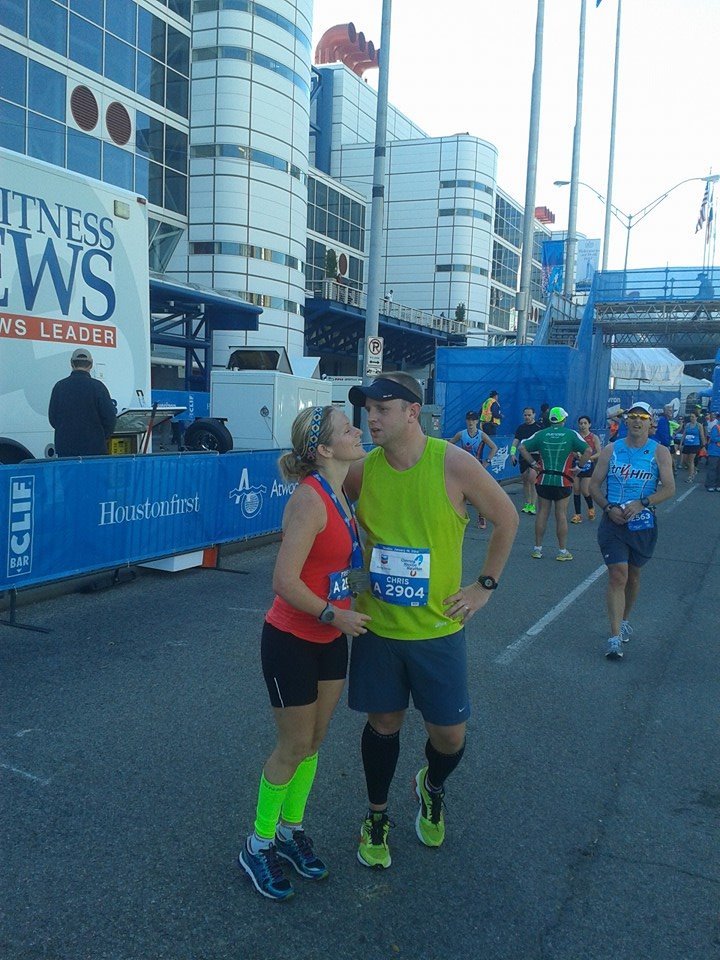 Houston Marathon.  I seem to do this race every year.  Originally because Amanda was going to school at Rice for the last few years and I could always count on a cheer and hug from her when the course passed Rice about mile 9 of the marathon course.  It is also the course I have run my two (and now three) best marathons on and my buddies Dave, Marc, Tom, and Kyle usually ran it as well.  This year I was still out of shape and knew I would not have a great race but it would prepare me for Rocky 50.  Amanda was also going to be there visiting so I would see her in her familiar position on the Rice campus.  Then my friend Trisha told me she was running it and trying to qualify for Boston.  I ran with Trisha a few years before at the Dallas Marathon and we missed getting her to qualify for Boston by 2.5 minutes.  She had moved over to Dallas a year earlier so we had not been running together like we had before Dallas but when she asked if I would run with her at Houston I had a "Reason" to run Houston.  I was still pretty out of shape and told her I wasn't sure how long I could hang with her to get her under her 3:40 Boston Qualifying time but told her would go as far as I could.  I made it to about 20 miles when I was ready to drop.  She told me she needed me to keep going to get her there so I gutted it out to mile 25 at which point she had plenty of cushion to BQ.  At 25 I told her to enjoy the last mile on her own, stopped took a photo of her running toward the finish and enjoyed the rest…. and enjoyed my last mile jog to the finish knowing she had finally accomplished the goal we had talked about for the last few years when we ran together.  She had pushed me pretty hard and this was the first time I ran long into Zone 2 and 3.  Once again, helping a friend achieve success proved to be very gratifying.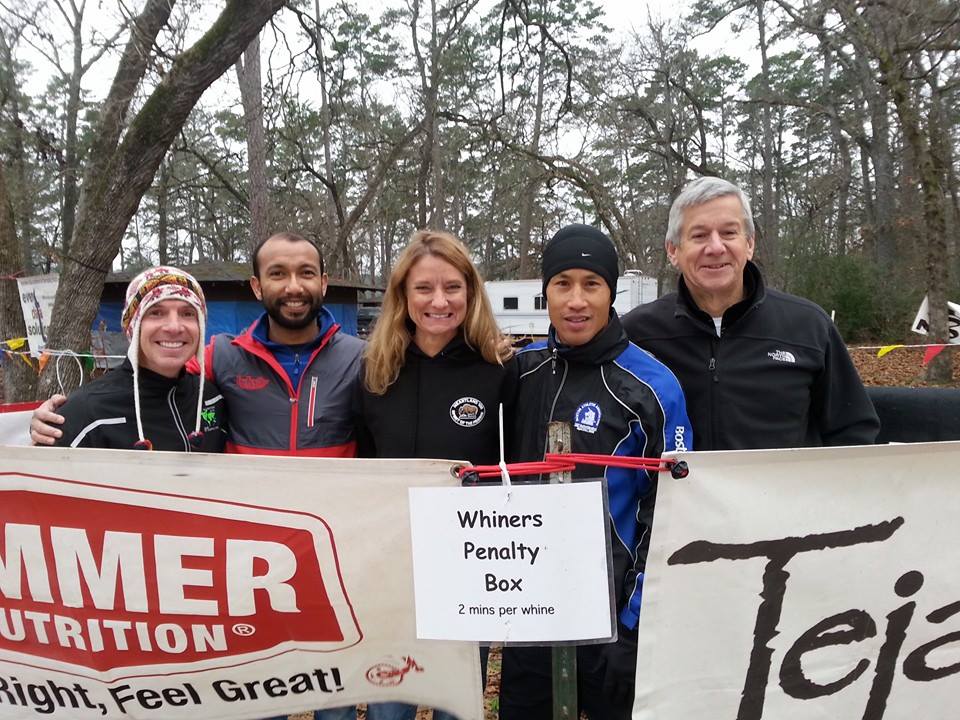 Rocky Raccoon 50 Miler – My first and probably last 50 miler, Rocky Raccoon.  I signed up for this about a year in advance and talked my friends Lee and Wade into doing it as their first 50 as well.  Mind you, after my knee injury I started ramping my mileage in November'13.  This race was my focus.  I wanted to prove to myself the knee injury wasn't going to limit me.  I ramped up my weekly mileage a lot more than the 10% recommended by most.  I was running marathons and double marathons within two months of barely running for three months.  My goal was to finish under 9 hours which was a stretch goal considering how out of shape I  became.  After  almost two of the three laps completed, I hyperextended the bad knee slipping in some mud, I knew the 9 hour goal was shot and just jogged it in to finish.  I probably would have quit had it not been for my friends Byron, Amy, Greg, Lee, Wade, Jason,  Roberto, Joe, Tina, being there either racing or cheering.  Having buddies at a race makes a big difference.
After Rocky 50 my focus became on the New Orleans half Ironman I was racing in April.  I cut back on my weekly running mileage and spent more time on the bike.  I still had not done any runs faster than my marathon pace at Houston until the week before Cowtown.  I had been testing my MAF and it was not getting a much better even with all the long slow runs I had done training for Rocky 50.  I decided it was time to start adding track interval and Tempo runs in to prepare me for the New Orleans Half Ironman.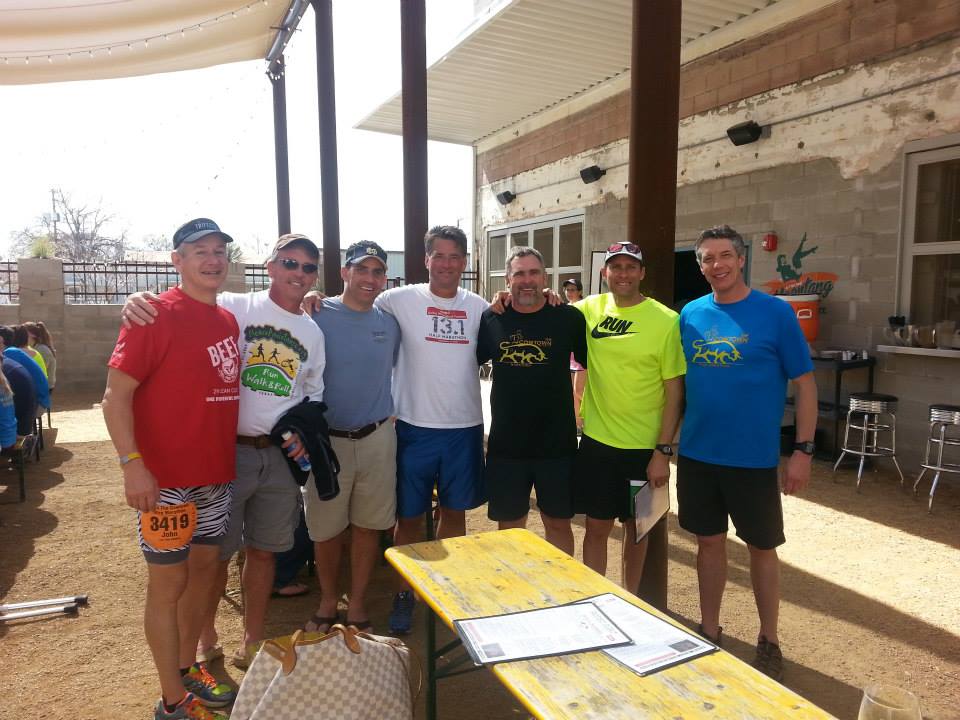 Cowtown Ultra or Marathon.  Yes I signed up for both distances.  I've run the ultra the last two years and have no idea why I signed up for the regular marathon as well.  This was a few weeks after Rocky 50 and my knee was still somewhat jacked up.  My friend Elizabeth was running the half marathon and her goal pace was about the same pace as I wanted to run the Ultra so I ran with her to the 9 mile mark where the two courses split.  I subsequently made it about 2 more miles until the pain in my knee was unbearable and decided I didn't want to walk 20 miles on a bad knee so I quit.  I have never quit in a race before in my life.  I walked the 3 miles back to the finish beating the shit out of myself internally.  I thought about the two entries I had paid for, the DNF that would not get me reimbursement from the Beef Team, I saw friends still running toward the end getting their finishers medals and finishers shirts.  Not me, I quit. Then I learned Elizabeth had run her best half marathon.  Suddenly wasting money on my two entries and DNF'ing the race didn't matter as much, Elizabeth had beaten her goal and I had participated in it in a small way.
I had put in big miles leading up to Rocky50 mostly in Z1.  Reading Phil Maffetone you would think my zone 1 heart rate paces would have improved.  I tested regularly and I really didn't get much faster running at the top of zone 1 heart rate.  Later on I learned I had built a tremendous base training for Rocky 50 which I could build on later.  I had also started to learn how satisfying it was helping other friends push their boundaries and run to new personal records.  I felt I almost got more satisfaction from this than my own success.