The Build
So I had built all this running aerobic base leading into Rocky 50 and had added more intensity to my running workouts after Rocky 50.   I had cut back on my weekly mileage fairly significantly moving from 70 miles per week to about 25-30.  I had replaced most of the running time with time on the bike leading to the New Orleans Half Ironman.  I had a race on the schedule prior to New Orleans.  It was the Grasslands trail run and instead of doing the marathon like I did the year before I decided to do the half marathon distance.
March 22, 2014 Grasslands half trail marathon.  My first masters win.  I really felt strong running trails hard.  I started easy then started picking off runners ahead of me one by one.  I ended up hanging behind a strong young kid in his 20's.  I couldn't believe it when I finished and found I out I was the first masters runner to finish. I felt like I was starting to be back from my knee injury.   This might be where I began learning how strong I was trail running at shorter distances.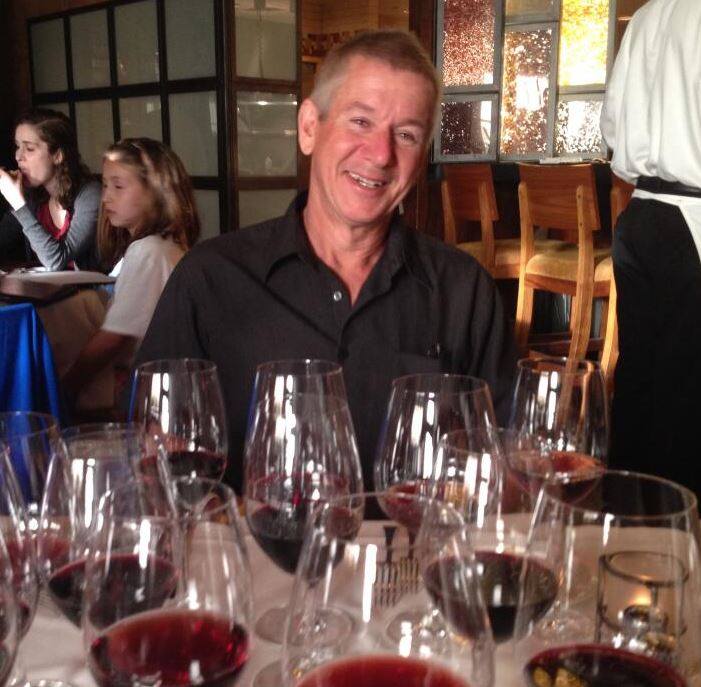 April 13, 2014 – New Orleans 70.3.  I won a free entry to this race from volunteering with my run club. Most of my other triathlon friends had signed up for other races around that time but luckily one of my triathlon friends Matt was also doing it as well.  Matt does this race every year mainly because he is epicurious curious.  I took most satisfaction dining with him and his brother in law at two of the nicer NOLA restaurants.  My race wasn't what I wanted but the wine and food made up for that.  I had a poor swim, decent bike, and really bad run compared to what I usually run.  I started to suspect my nutrition and hydration needed some help.  Later on this thought would lead me to Eve.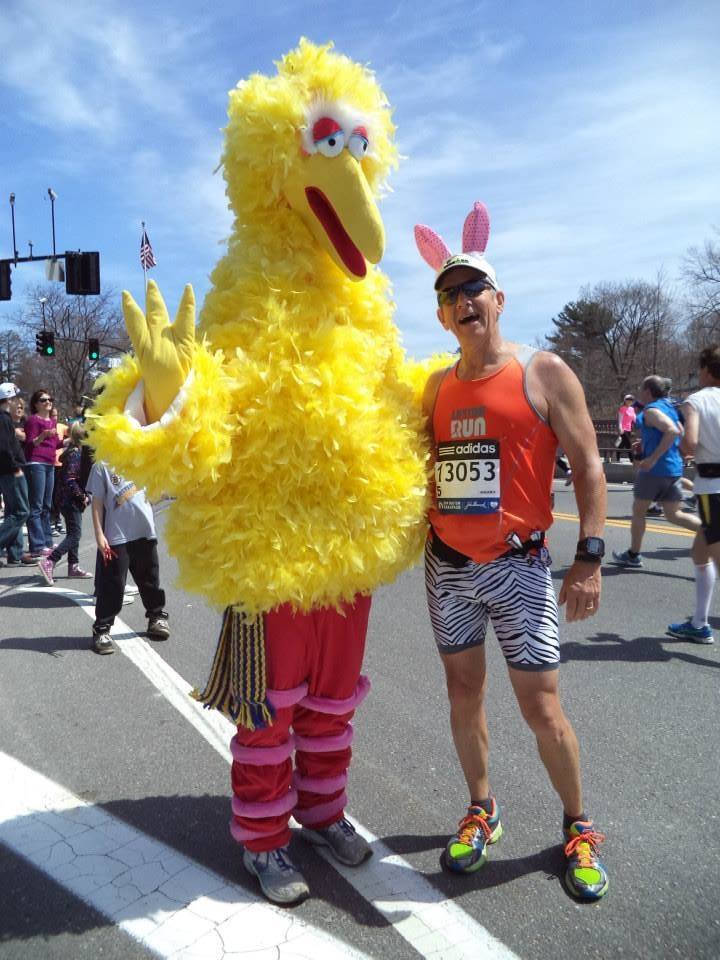 April 21, 2014 (Yes, 8 days after NOLOA 70.3) Boston Marathon.  I no longer treat this as a race.  It's more a celebration and i got to enjoy it with my friends Jay, Russ, Liz and Polar Bear this year.  After the emotions of the previous year (bombing) I had to come back to support the people of Boston.  I took my camera on the run a and took photos along the way.  It wasn't until I turned onto Boylston Street that the emotion from last year overcame me.  This was my last chance to re-qualify for Boston 2015 and I was still able to achieve that after all the goofing off.  I had to run a negative split from mile 20 to the finish to get under my BQ time and that is what was most satisfying to me of all.  Despite my fitness this might have been the best marathon I had ever run.  After Cowtown I had done no long runs greater than 14 miles leading up to Boston.  I had been riding long preparing for IM 70.3 NOLA and had hoped those 3 hour rides would translate into marathon endurance which they seem to have done.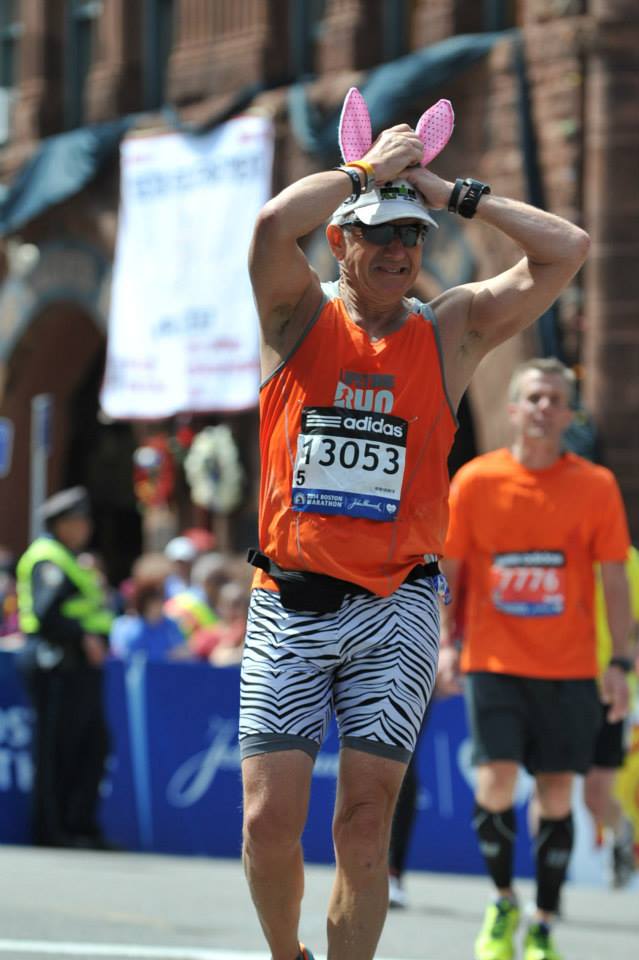 After Boston I had no significant races scheduled until the Boulder half Ironman in June.  I continued to focus more on building my cycling power.  My running moved more to lower volume and higher intensity.  I competed in the odd X-50 distance at the Texasman triathlon  in May and took 3 place in my age group.  Although I was first in the run portion my bike time was sub-par so I knew I needed to keep working on my cycling.  My focus continued to be on cycling and I ran no more than 30 miles per week.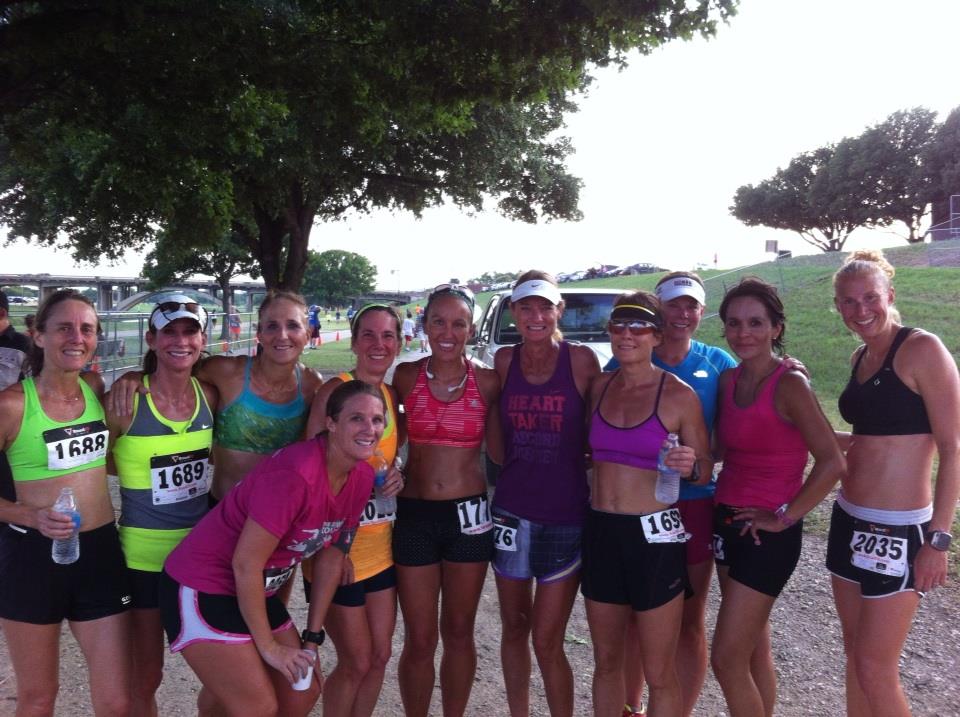 June brought the start of the local Cox summer Thursday night 5K series.  I had participated in these as much as possible the last few years and used them as a substitute for track workouts.  Since I am a social runner and many of my friends participated this was a no-brainer.  I think these hard weekly 5Ks really helped lay more speed on top of the base I had developed thru the Rocky 50 training.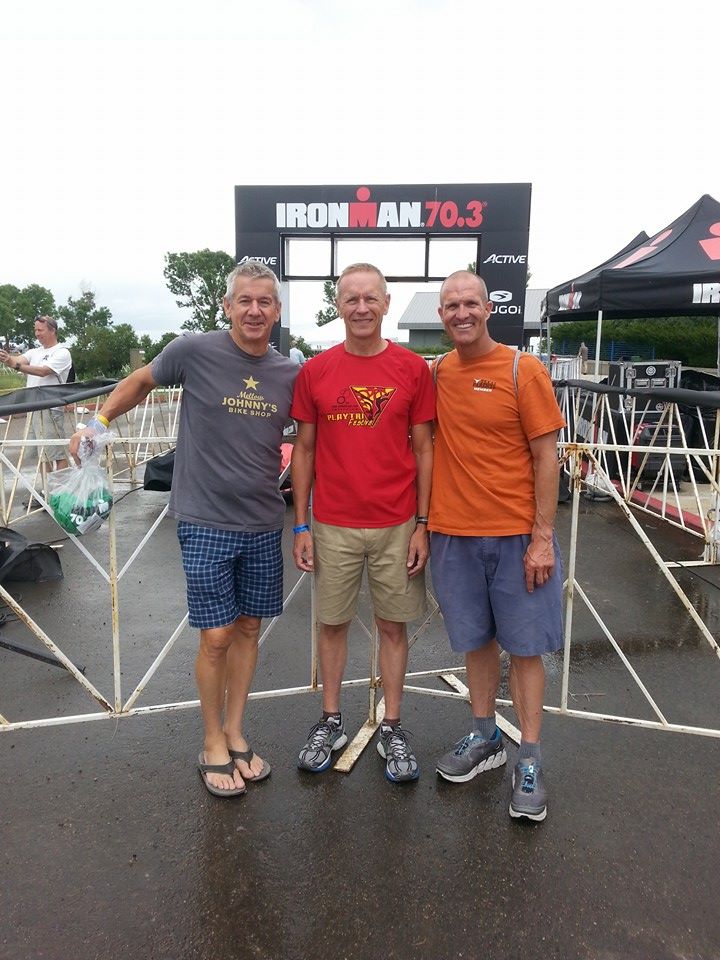 Boulder 70.3.  Not my best race, especially swimming ( I started way too fast in altitude, got gassed, and had to dog paddle for a while to catch my breath).  My bike time was OK considering my friend Jeff took me out on a longer than usual, harder than usual pre race ride to sabotage my race bike time.  ( I ended up swatting his ass on the run as usual)  But I had a great time staying with Dog Bait and Bride in Estes Park and Goat and his family before the race.  My performance in this race cemented the fact I needed nutritional and hydration help.
After Boulder I worked with Eve Pearson on race nutrition and hydration strategies.  I had Ironman Chattanooga coming in late September and did not want to repeat my Texas disaster the previous year.  I worked harder on my bike training doing two interval workouts per week in addition to the long ride we did every weekend.  Following the long rides several of us would embark on a brick run.  In the years before my brick runs had always been short, about 20 minutes maximum.  Since I seemed to have problems in triathlon after 2 miles I decided to start making these runs longer.  Michelle was using the same strategy as were the Jason's so we would gradually push the pace faster and faster and run 4 and more miles in distance at tempo pace.  I really think these tempo runs after several hours on the bike helped make more improvement to my running.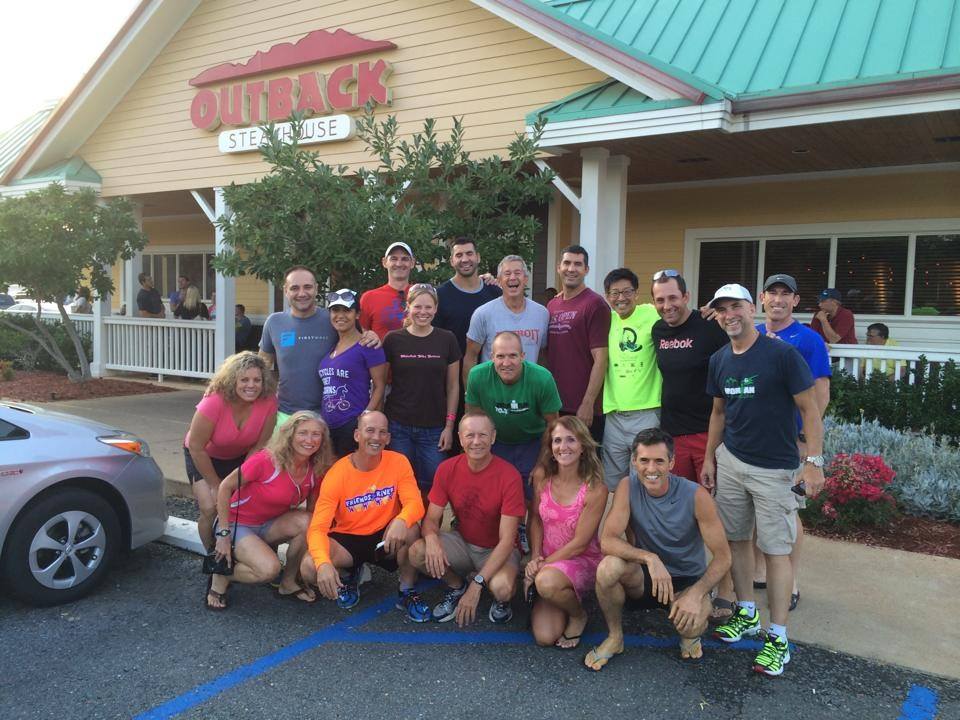 Early August, 2014 – River Cities.  One of my favorite races even though it is just a sprint triathlon.  I missed this last year due to injury and being back with friends and getting another AG podium spot was especially satisfying.  My bike time during the race gave me confidence that my bike strength was back.  I ran the 5K portion a little slower than I expected but was still happy with my overall performance.  The entire group of friends i went with all did very well and we brought back a lot of trophies.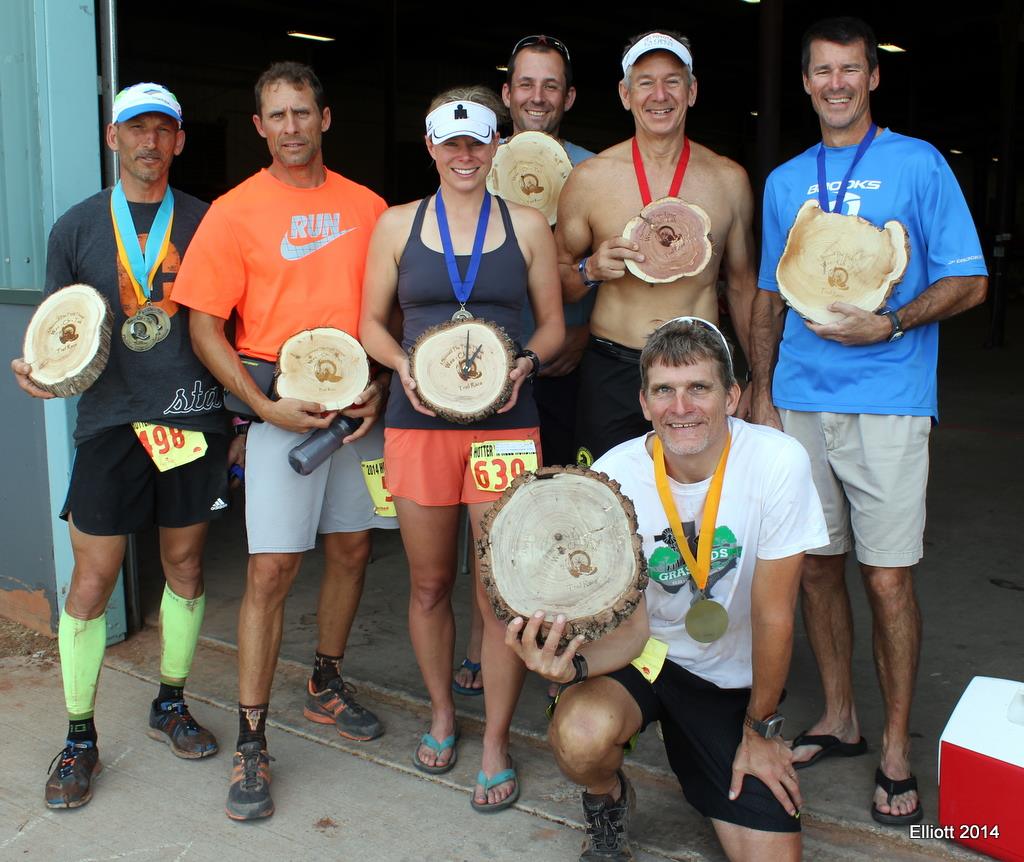 Late August – HOTTER N Hell Triple Threat.  This event is a mountain bike race Friday, 100 mile road rally Saturday, and half marathon trail run Sunday.  Complete all of those and you get one of these blocks of cedar.  I wasn't able to do this in 2013 because of my knee injury.  It was great to be back with my friends again competing.  I was the masters winner in the Cat3 MTB race on Friday night (I think 3rd overall), rode solo (without drafting) in the 100 mile road rally, and had a really fun trail run on Sunday.  I think I ended up placing 9th overall.  Then we learned Michelle had won the women's overall championship(note her block of cedar has an integrated clock).  I was so happy for her especially after I had harassed her a bit to come do the race.   I ran with her the last mile to the finish of the trail run and remember being so impressed with how strong she ran.   My bike confidence and love for trail running continued to grow.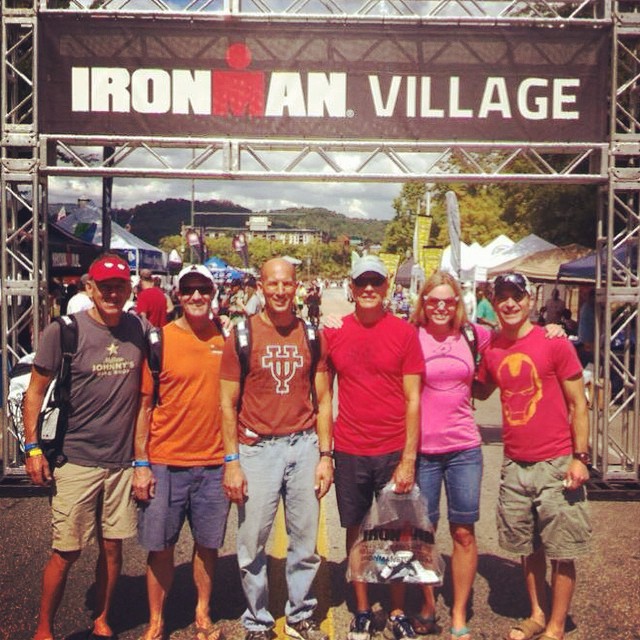 Sept, 28 , 2014 Ironman Chattanooga.  Wow.  Everytime I think of this race I tear up.  Loved the months of training with all my buddies.  Exceeded my expectation by so much I still can't believe it, I ran a 3:30 Ironman marathon!.  I think all the work on the bike had really paid off and I may have finally figured out triathlon nutrition and hydration thanks to help from Nutrition coach Eve.  Chattanooga was the point where I realized my running had finally come around.  My 3:30 marathon was the best of all the 50+ year olds competing and  was one of the better times of all the competitors.  I knew if I could pull off a 3:30 Ironman Marathon I should be able to do a 3:10 standalone marathon easily.  A key point here is my weekly mileage leading to Chattanooga was less than 30 miles.  Most of my weekly long runs were 12 miles long, I did one 16 mile run a few weeks before this race but used all my bike training to build my endurance.
To summarize I had moved from a low intensity high volume block of running to much more cycling training with much lower volume running but at higher intensity.  Through all this I had noticed my running MAF times had reduce drastically.  At 131 BPM HR my pace was about 9:20 per mile after Rocky Raccoon and just before IM Chattanooga it had come down to 8:10 per mile.  I credit this to higher intensity running after a a 4 month block of zone 1 running.  It was time to put together a plan for a 3:10 marathon.  I used the FIRST plan as usual for a baseline as it included crosstraining which I did a lot of.  I always have used Daniels tables to check FIRST as I think the paces described in FIRST are a little too fast and could lead to injury.  I signed up for the Dallas marathon in mid December and had already signed up for the mid January Houston Marathon.  My plan was to run 3:15 at Dallas and then try to push my limits at Houston and go sub 3:10.